UKG Pro provides the features you need for powerful HR, talent, payroll, and time functionality all in one platform. With the Hireology and UKG Pro integration, you can send new hire data securely from Hireology to UKG Pro to streamline your people process.
In this article we will cover:
UKG Pro Service Account Setup Recommendations
To use the UKG Pro integration with Hireology, you will need a service account with UKG Pro. When selecting or creating your service account, please make sure it has the following View permissions:
Employee Person

Employee Address

Employee Contacts

Employee Job

Employee Compensation

Employee Pay Statement

Employee Global New Hire

Development Opportunity

Development Opportunity Session

Development Opportunity Participation

Employee User Defined Fields

Employee Employment Information

Employee Phone Information

Employee Termination

SUI Tax Rate

PTO Plan Integration

Company Configuration Integration

Employee Export

Payroll Integration

Personnel Integration

Talent Integration

Tax Integration

Time Integration

Deduction Integration

Employee Person Details

Activating the UKG Pro Integration
To activate the UKG Pro integration, first, let your Hireology Customer Success Manager or Support know that you're interested in setting up an integration with your UKG Pro account.
After Hireology enables the integration, follow the below steps to complete the setup.
Click 'Hi' and select 'Settings'.
Next, click 'Integrations'.

Find the UKGPro integration and click 'Connect'.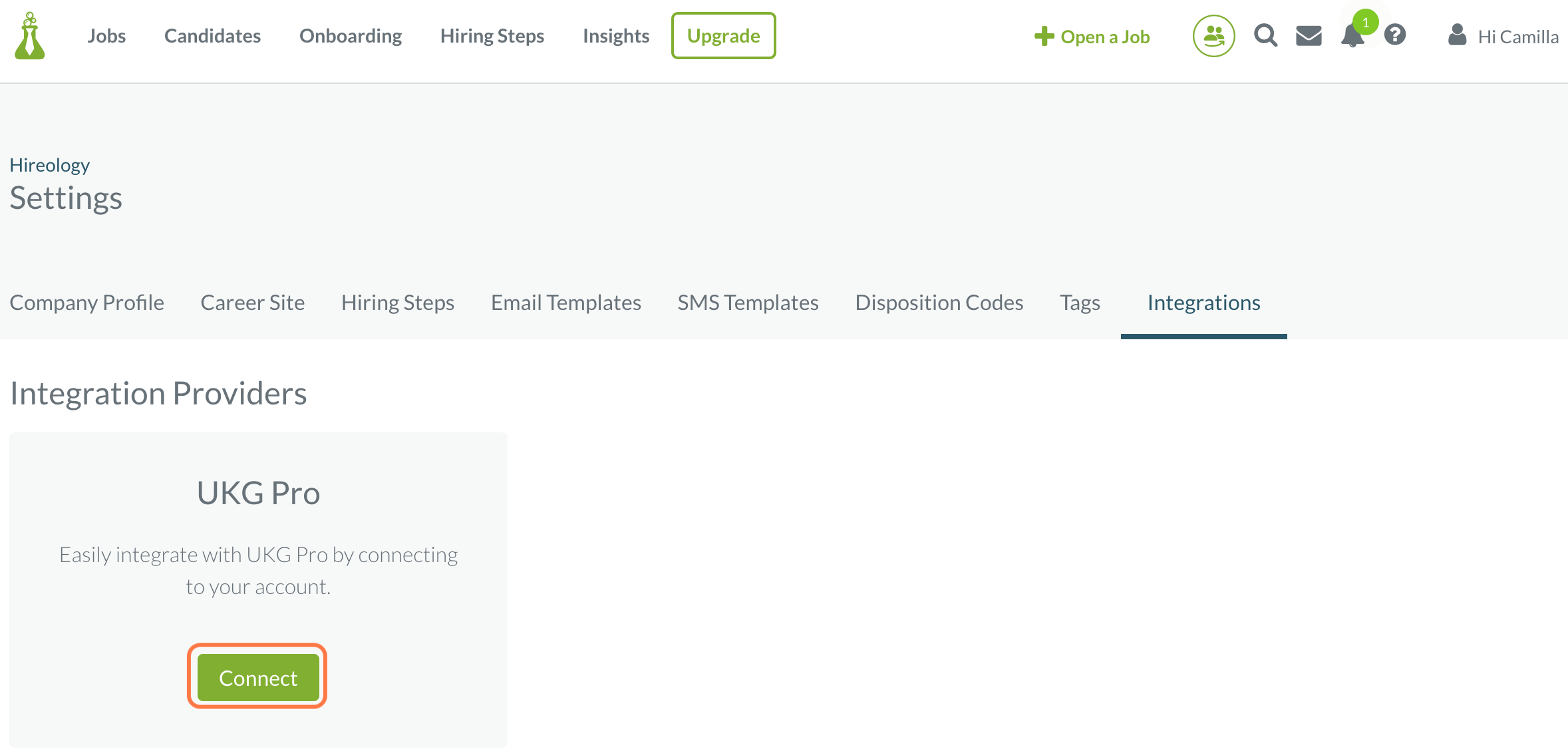 Enter your UKGPro account details and click 'Save'. Note: If you don't know where to find these credentials, you can contact your UKG Pro representative or support team.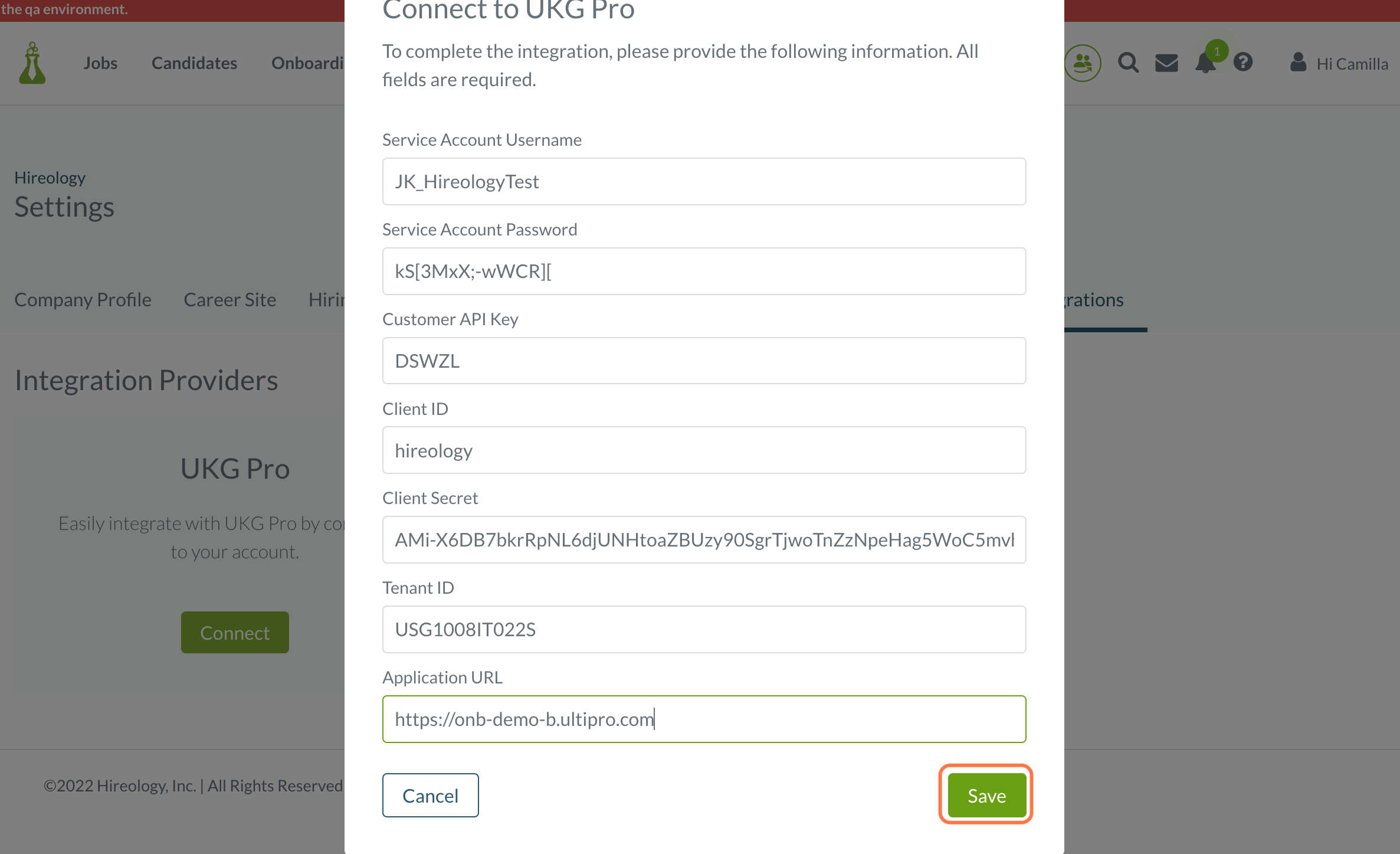 Service account username (if you need to find or create service accounts, login to UKG Pro and select the Service Account Administration tab)

Service account password

Customer API Key (this should also be under Service Account Administration)

Client ID

Client Secret

Application URL (this is your UKG Pro Onboarding URL)

Tenant ID - You can find your Tenant ID under Administration in the Onboarding section. Click 'Onboarding Gateway' to open the Dashboard, then copy the alphanumerical portion of the URL as shown below (example: onboarding.ukg.com/

copythisportion

/Dashboard).




Success! The integration is now activated in your account.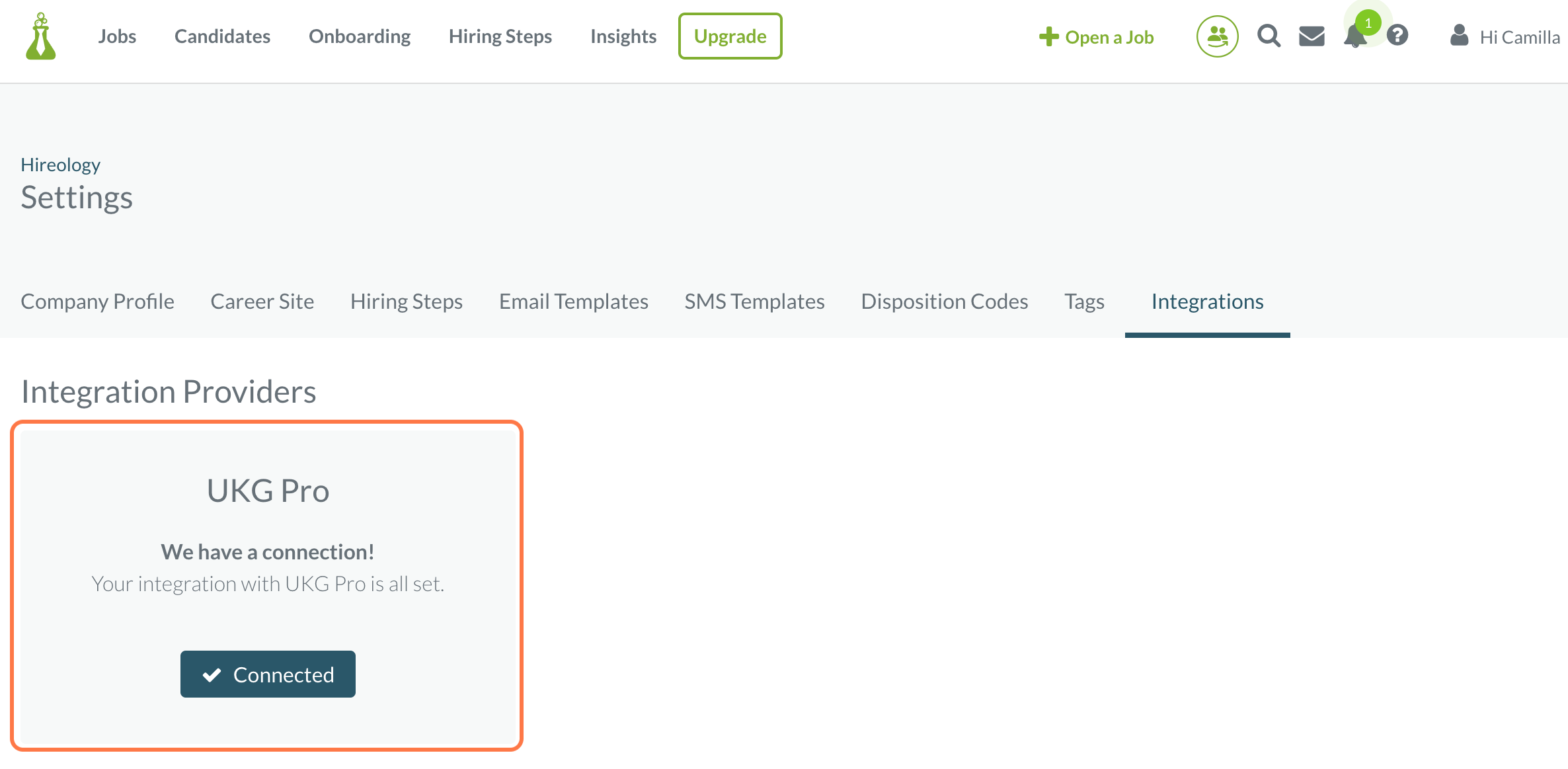 Syncing New Hire Data
Once your integration is set up, the next equally important step is to sync your new hires. This will ensure that new hire data pushes into UKG and allows for employee data to sync back into Hireology. Follow the steps below to transfer data for a newly hired candidate.
Mark the candidate as hired.
Select the start date and click 'Apply'.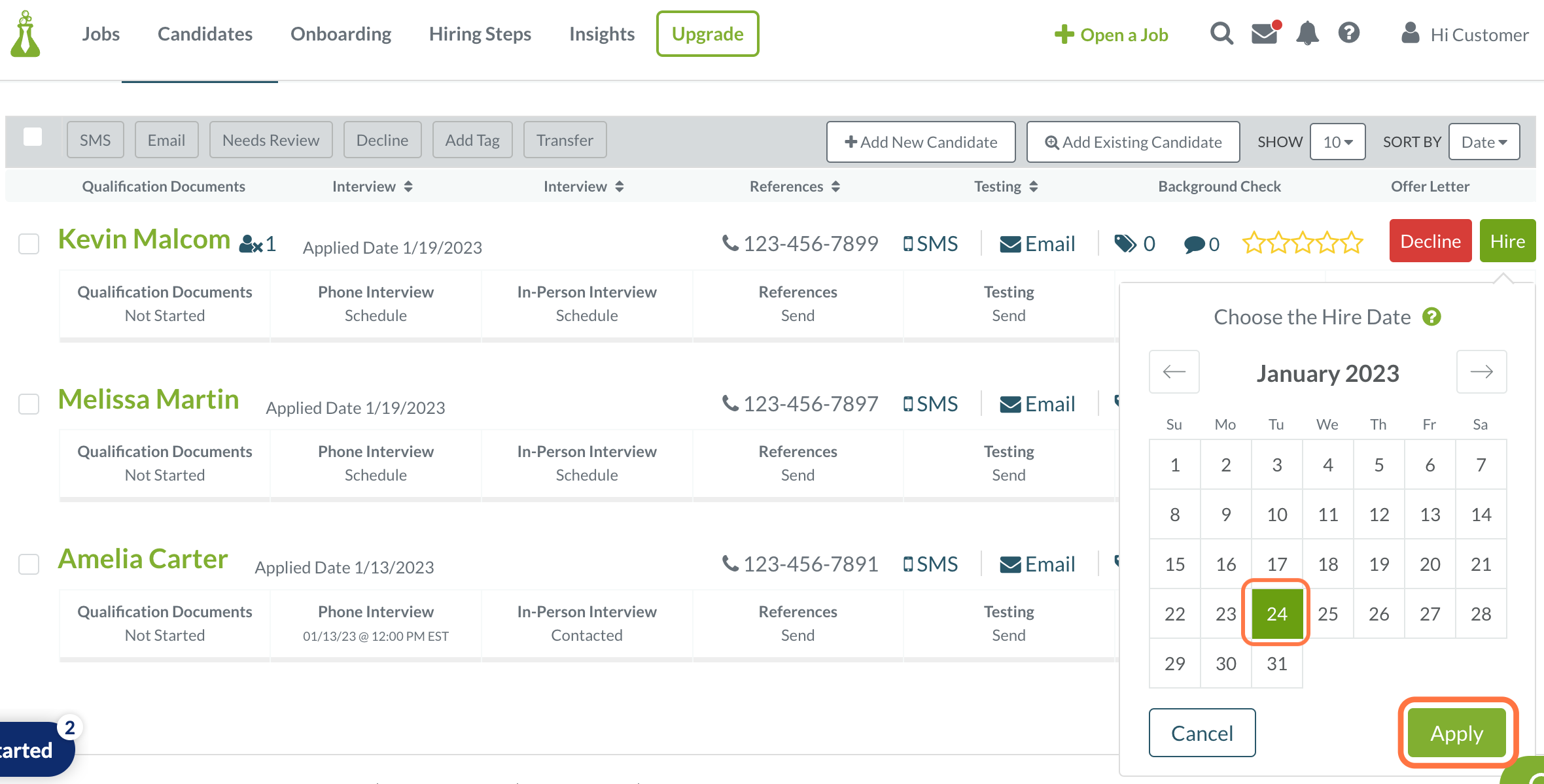 Click the 'Hires' tab.

Click 'UKG Pro' to begin the sync.

Enter the requested fields for the new hire.
Click 'Sync'.
Success! Your new hire's data has now been sent over to your UKGPro account.
Video Tutorials
How to set up the UKGPro Integration
How to send new hire data to UKGPro

UKGPro Customer Portal
FAQs
What Data Does the Integration Send to UKGPro?
This integration will transfer over the following fields to UKG Pro for your new hire:
First Name

Last Name

Email

Street Address

City

State

Zip

Country

Phone

Hired Date
What if I cannot find any/all of the fields above?
You will need to reach out to the UKR rep or support team.
Can I remove the integration or make changes to it once activated?
Yes! Simply navigate to the integration in your settings and click the blue "Connected" button. You will see the current setup and can choose to "disconnect and start over" at the bottom of the modal.

Integration Support
Contact your Hireology Customer Success Manager or email support@hireology.com to start integrating UKG Pro with your Hireology account!
Related Topics