Hireology has partnered with AlayaCare to offer a scheduling option that works directly with our recruitment marketing and CRM platform. You can seamlessly transfer new hire data from your Hireology account directly into AlayaCare.
In this article we will cover:
How the Hireology // AlayaCare Integration Works
AlayaCare is a one-way integration in which new hire data is seamlessly pushed from Hireology into AlayaCare. The following new hire data will be sent from Hireology:
First Name

Last Name

Email

Hire Date

Street Address

City

State

Zip Code

Country

Phone
Enabling the AlayaCare Integration
To enable this integration, Hireology customers must first ensure they are enrolled in the AlayaCare Partner Integration Package. If customer is not enrolled, work with your Alayacare rep to enroll.

After confirming enrollment in the Partner Integration Package, reach out to your Customer Success Manager or Hireology Support support@hireology.com to enable the AlayaCare integration in your Hireology account.
Once enabled, log into your Hireology account and navigate to the "settings" tab.

Select "Integrations" and "Connect" under the AlayaCare integration.

Enter your URL, Public API Key and Private API Key when prompted. If you are not sure what these fields are, please reach out to your AlayaCare contact.

Syncing New Hires to AlayaCare
To sync a new hire to AlayaCare, first ensure that the integration is included in the hiring process of any open jobs of applicable roles. You can review how to do so here.
Once a candidate is marked as 'Hired', navigate to the "Hires" tab. Select "sync" and the data will then be transferred from Hireology to AlayaCare. You will see the field shows "Synced" once complete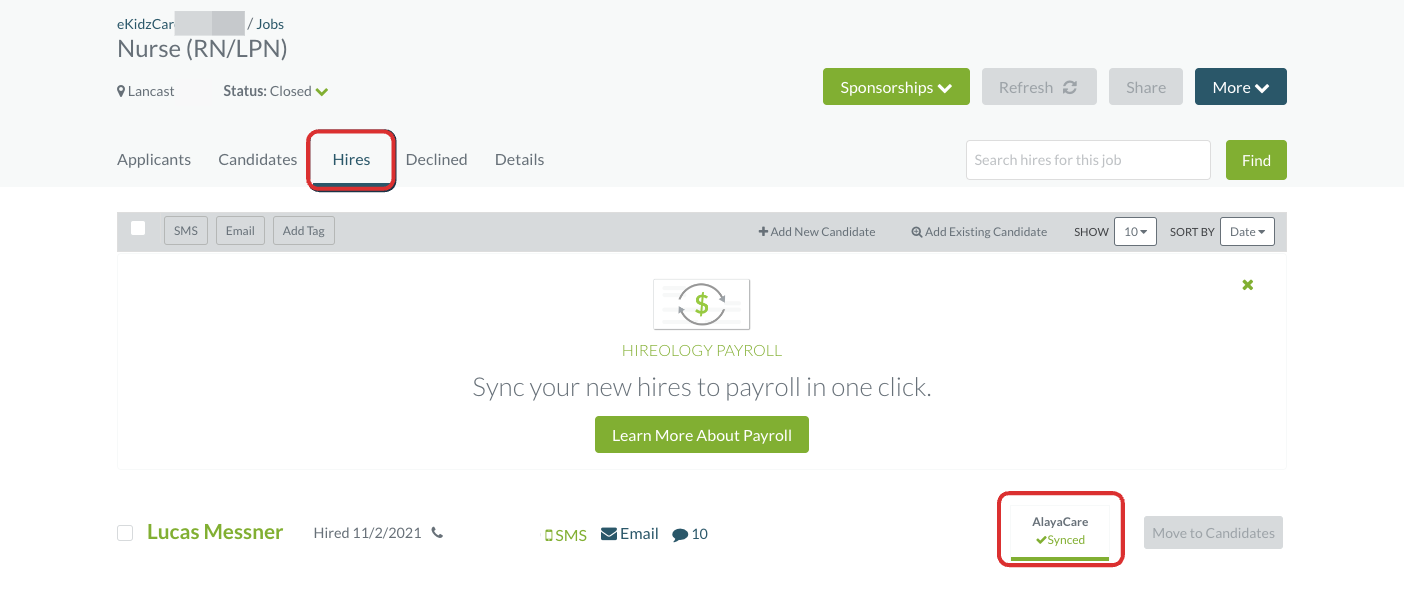 Accessing New Hire Data in AlayaCare
After syncing each new hire, login to AlayaCare and click on the employee tab, you will be able to see the new caregiver in the following list view:
From the list view, the AlayaCare user can click on "view" to see new hire information.
Related Topics