You can check on the status of your candidate's background check right from their profile!
In this article we will cover:
Viewing Background Check Status
To find the status of a background check, begin by searching for a candidate whom you've ordered a background check for. You can do this using the magnifying glass in the navigation bar at the top of the page. When your candidate appears in the dropdown selection, click their name.

To the right of the page, you will see the date that the background check was ordered. Click the job title to open the candidate Report Card.

Click the Background Check tab.

Here you will find a breakdown of the services included in the background check package you ordered along with the status of the background check.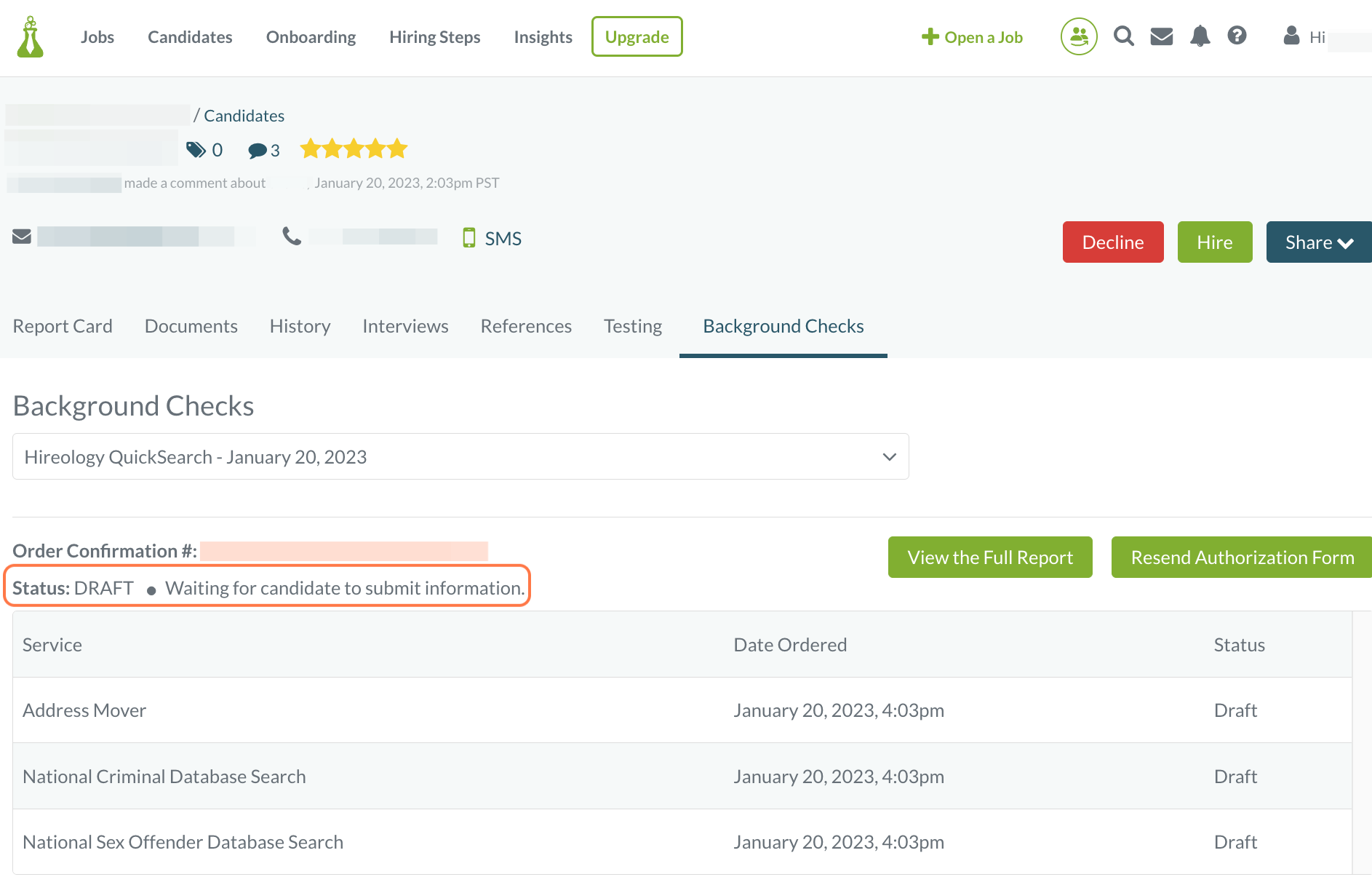 Background Check Status Definitions
After you've ordered a background check, there are several statuses it can have. Here is a quick rundown of what each one means:
Draft: If your candidate has not filled out the background check form and has not given their consent to initiate the search, the search status will read "Draft". At any point, you can click 'View Full Report' next to a search to see additional details.
Pending: After your candidate has given their consent, the search can begin and a list of the searches that are being performed will populate as "Pending".
Completed: This status means the background check has been completed for the candidate. Please be advised that the report will still show as Completed even if there are Canceled events such as drug screens or MVR's. If you would like to update the status of a canceled event, please reach out to support@hireology.com.
Canceled: If the candidate has not authorized the background check within 10 days, the status will show as 'Canceled'.
If at any time, you want to re-initiate the background check services for a candidate, click the 'Order Again' button on the status page.
Delays in Background Check Status Updates
Background check packages usually take a minimum of (5) business days to complete. Sometimes there can be longer delays caused by backups in the clerk's office or other reasons beyond control including:
Natural disasters resulting in court closures and/or power outages

Unexpected court clerk delays

Other Information Needed (i.e. Release Needed, Verification of SSN, etc.)

Holidays

Weekends
If a background check still shows as 'Pending' after five business days, you can contact our Customer Care team by emailing support@hireology.com. They will reach out to our background check partner and may be able to obtain an ETA or submit a request to expedite the process.
Related Topics