Integrating your HRIS or payroll provider enables Hireology Referrals to verify when a candidate is marked as hired by matching the referral's email address or phone number. Hired candidates will be automatically updated in the Referrals portal, triggering your bonus payout rules.
In this article we will cover:
Activating the HRIS Integration With Referrals
These steps will guide you through how to integrate your HRIS platform with Hireology Referrals. It requires an active Hireology Referrals account with administrator privileges. You will also need an active account with the HRIS provider you've selected and the appropriate permissions to authorize integrations. To begin, click the 'Settings' tab in your Hireology Referrals portal, then click the 'Account' tab.

Click 'Sign in to HRIS' in the Integrations Settings section.

Select the system you wish to integrate with and follow the prompts to sign in to your HRIS account. Click 'Finish Setup' to complete the process.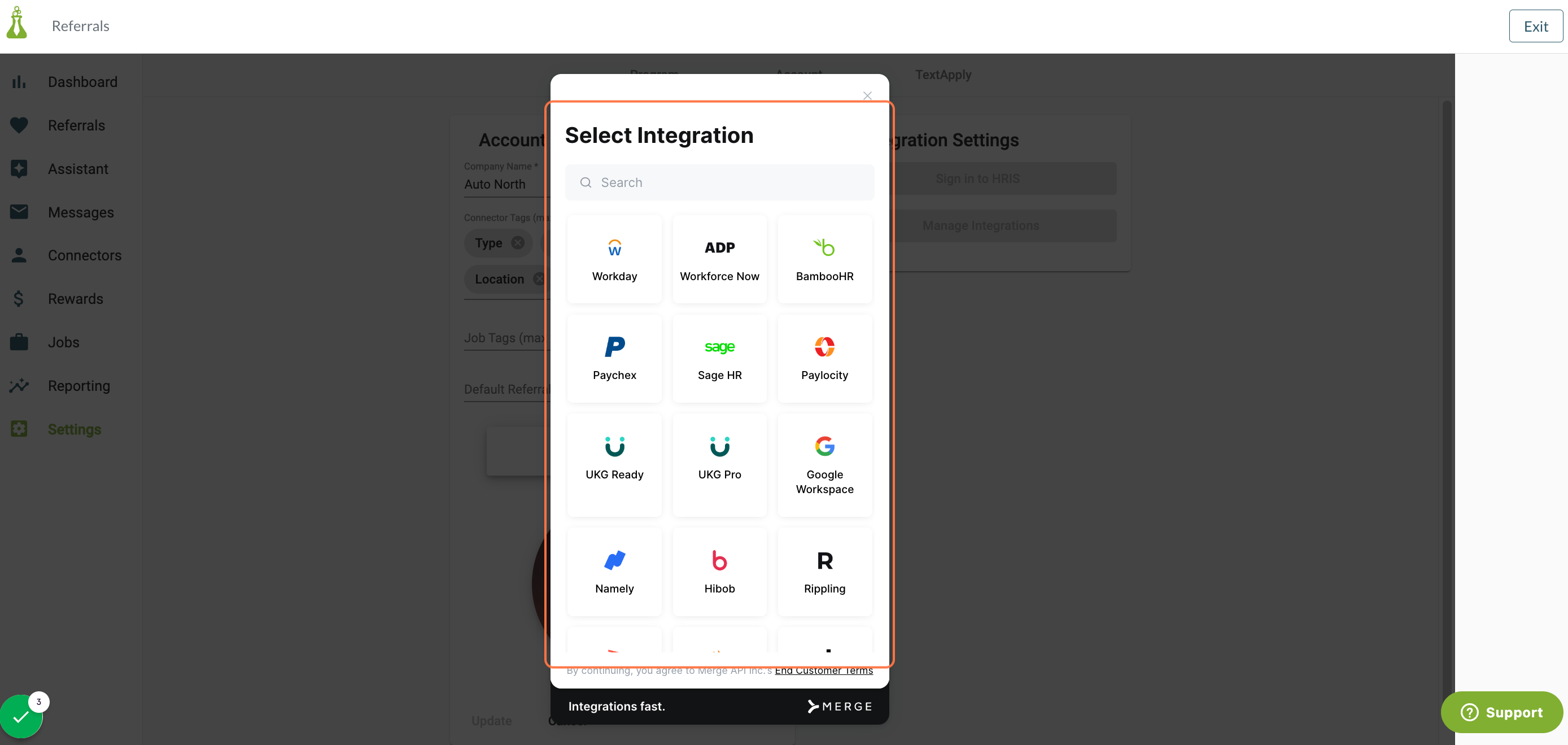 Once complete, you can configure the integration by toggling the integration fields on or off under the 'Integrations Settings' section. Below is the list of standard employee fields we can pull into Referrals and map to Connector tags:
Job Title

Job Type

Work Location

Work Address

Home Location

Home Address

Pay Group

Manager


Team
You have the option to customize the field mapping for the integration. Resync the connection to update your changes!
HRIS and Payroll Providers We Integrate With
Below is the list of HRIS and payroll providers we integrate with.
ADP Workforce Now
AlexisHR
Altera Payroll
Azure Active Directory
BambooHR
Breathe
Ceridian Dayforce
Charlie
ChartHop
Deel
Factorial
Freshteam
Google Workspace
Gusto
Hibob
HR Cloud
HR Partner
Humaans
IntelliHR
JumpCloud
Justworks
Keka
Lano
Lucca
Namely
Netchex (see notice below)
Nmbrs
Officient
Okta
OneLogin
Paychex
Paycor
Paylocity
PeopleHR
Personio
Proliant
Rippling
Sage HR
SAP SuccessFactors
Sapling
Sesame
Square Payroll
TriNet
UKG Dimensions
UKG Pro
UKG Ready
Workday
Zenefits
Notice to Netchex Customers
If you're using Netchex for payroll, please contact support@hireology.com or your Customer Success Manager to enable the integration for your account. Please include the number of Netchex organizations that you would like to sync with Referrals. To get the most out of your Netchex integration, we recommend adding new connector tags for 'Type' and 'Title' to automatically pull in your employees' information.
Video Tutorial
Watch the video below to find out how simple it is to set up integrations from your Hireology Referrals account!
Integration Support
Contact your Hireology Customer Success Manager or support@hireology.com if you need help integrating your HRIS provider with your active Hireology Referrals account.
Related Topics