Pre-Hire Qualification Document Collection offers hiring managers a simple way to collect certification documents and materials from candidates in a streamlined manner. This reduces manual email correspondence while providing a better candidate experience.
In this article we will cover:

Document Collection Requirements
Document collection is included with Hireology's electronic onboarding solution and is available in our Professional plan. With onboarding, you can create customized onboarding programs to quickly ramp up new hires and have them prepared to start their new roles more effectively.
Our onboarding suite is powered by Click Boarding, an industry leader in onboarding solutions, and is closely integrated with the Hireology platform. To get more details on our onboarding + document collection solution, including pricing, please reach out to your customer success manager or email support@hireology.com.
Starting Document Collection on a Candidate
We will work with you to enable and set up your initial document collection process. When that is complete, you can begin the pre-hire document collection process.
To do this, click 'Jobs' in the top, left of your account, then click the 'Candidates' tab to the right of a job title.

Next, click the 'Qualification Documents' button beneath a candidate's name.
Click the button to 'Start Collecting Documents'.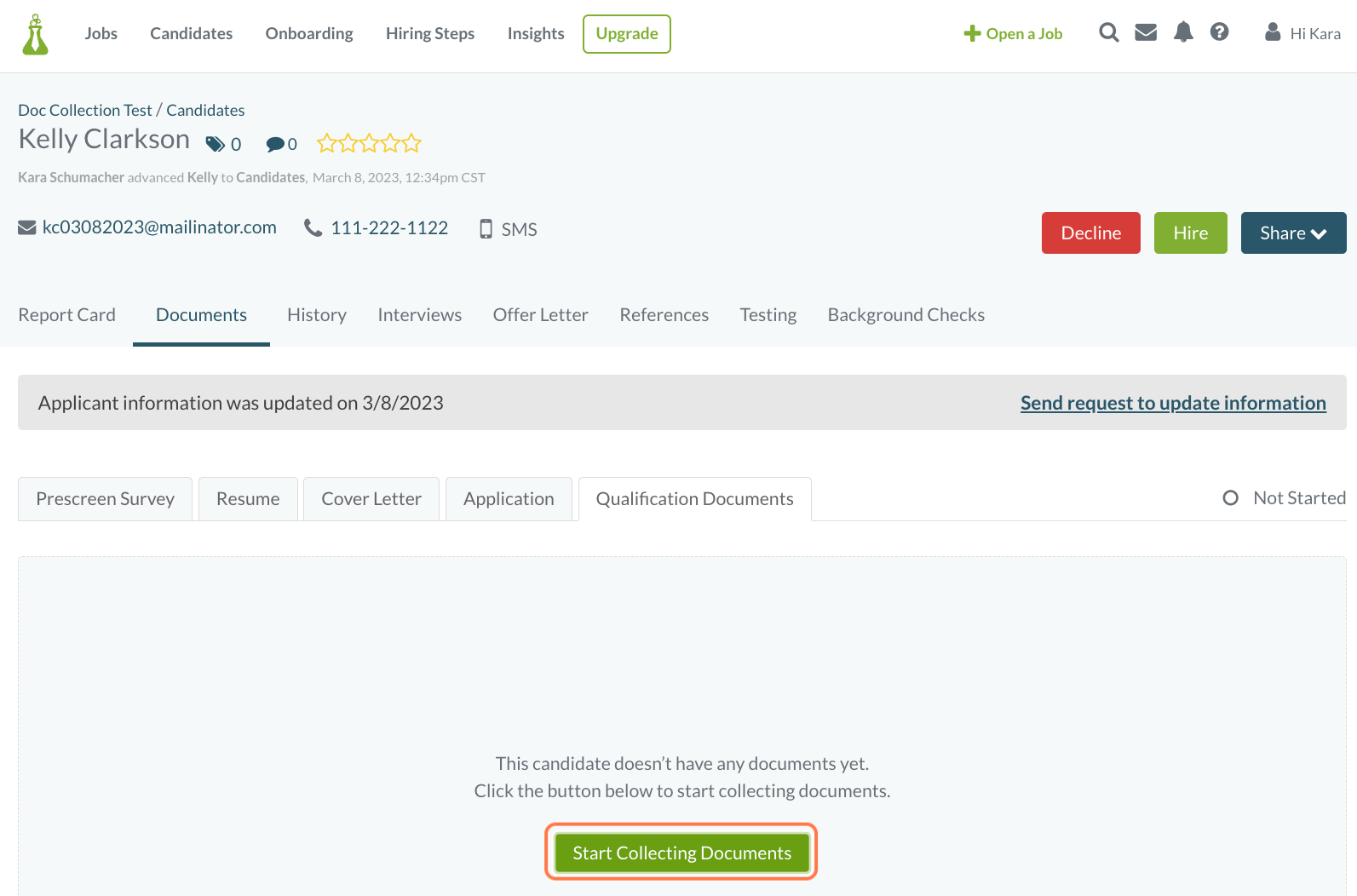 In the popup, click the dropdown menu to select one of the pre-built document collection processes saved in your Hireology account.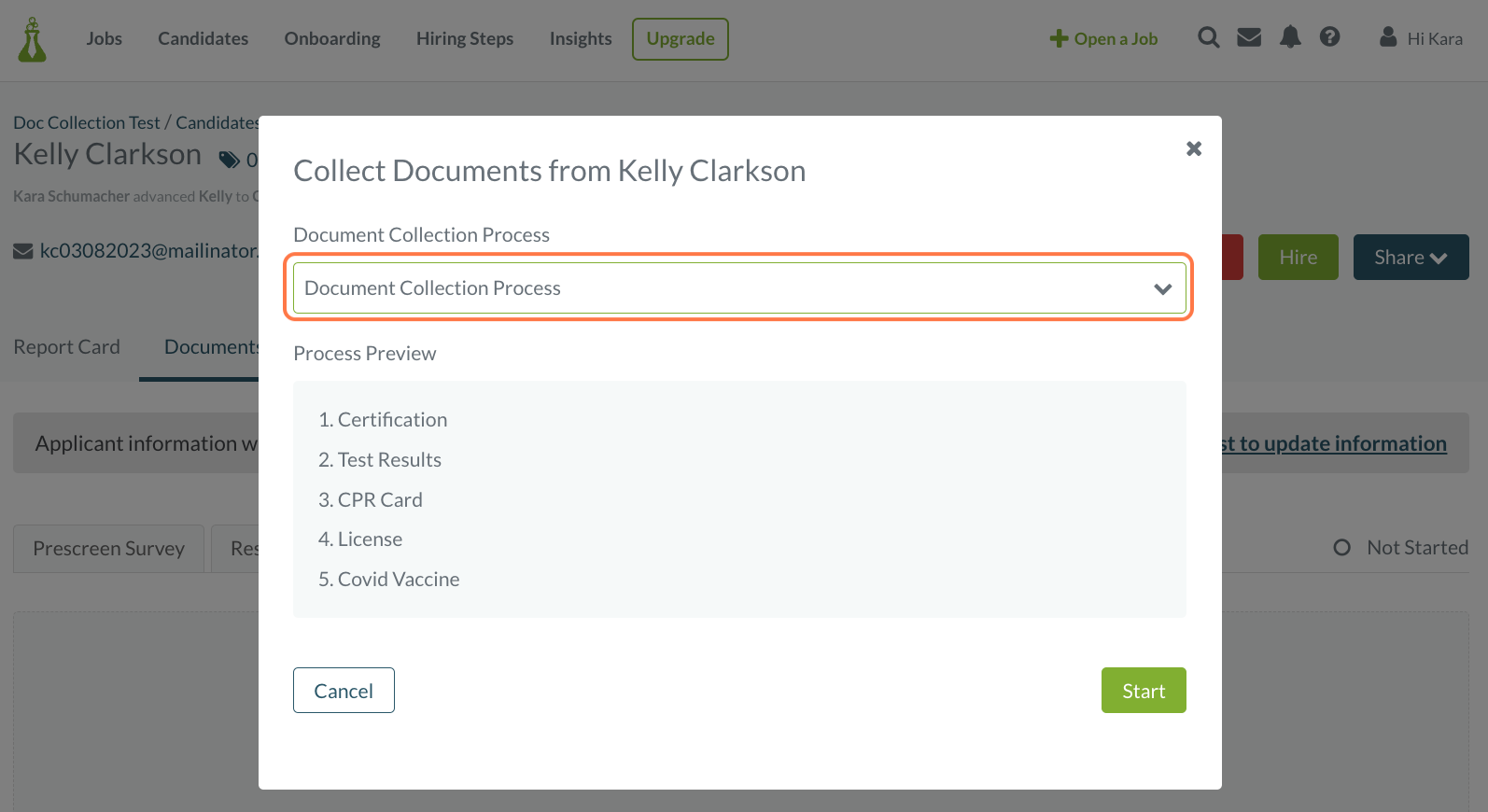 You'll be able to see the specific documents in the Process Preview section.
Click 'Start' to begin the process.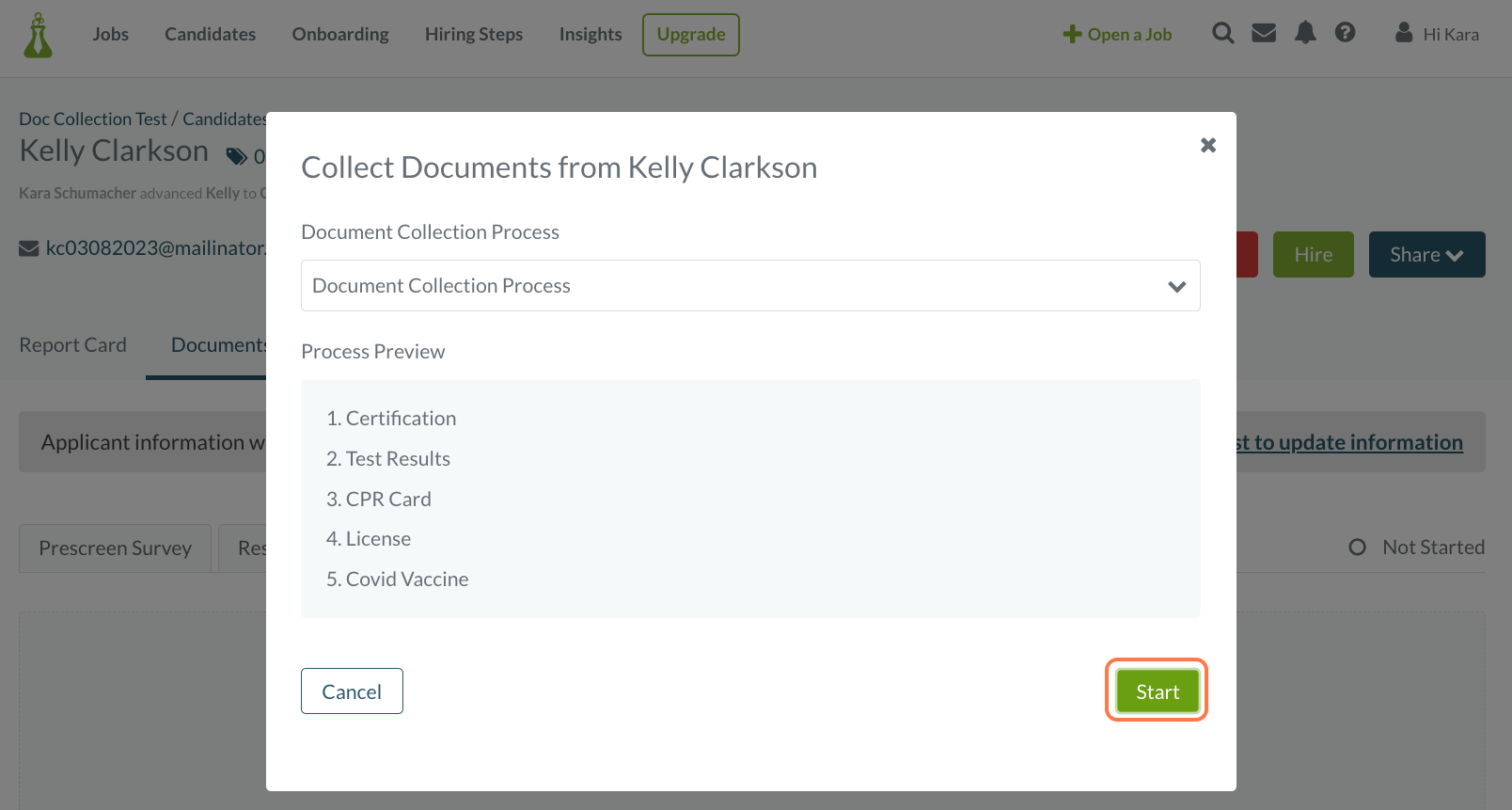 Document Collection Status
After confirming the document collection process, status icons will show the progress of each step so you know which documents are outstanding, completed, or need manager action.
Here are the document collection status icons you may see:
Orange clock: This step is still outstanding and needs to be submitted by the candidate

Green check: This step has been completed by the candidate and is ready for review

Red Exclamation: This step requires manager action

Gray "No" Symbol: This step was declined by the candidate
Canceling Document Collection
You can cancel document collection at any time. This might be necessary if a candidate withdraws their application, another candidate is selected, or for any other reason. If this occurs, click 'Stop Collecting Documents' to cancel the process.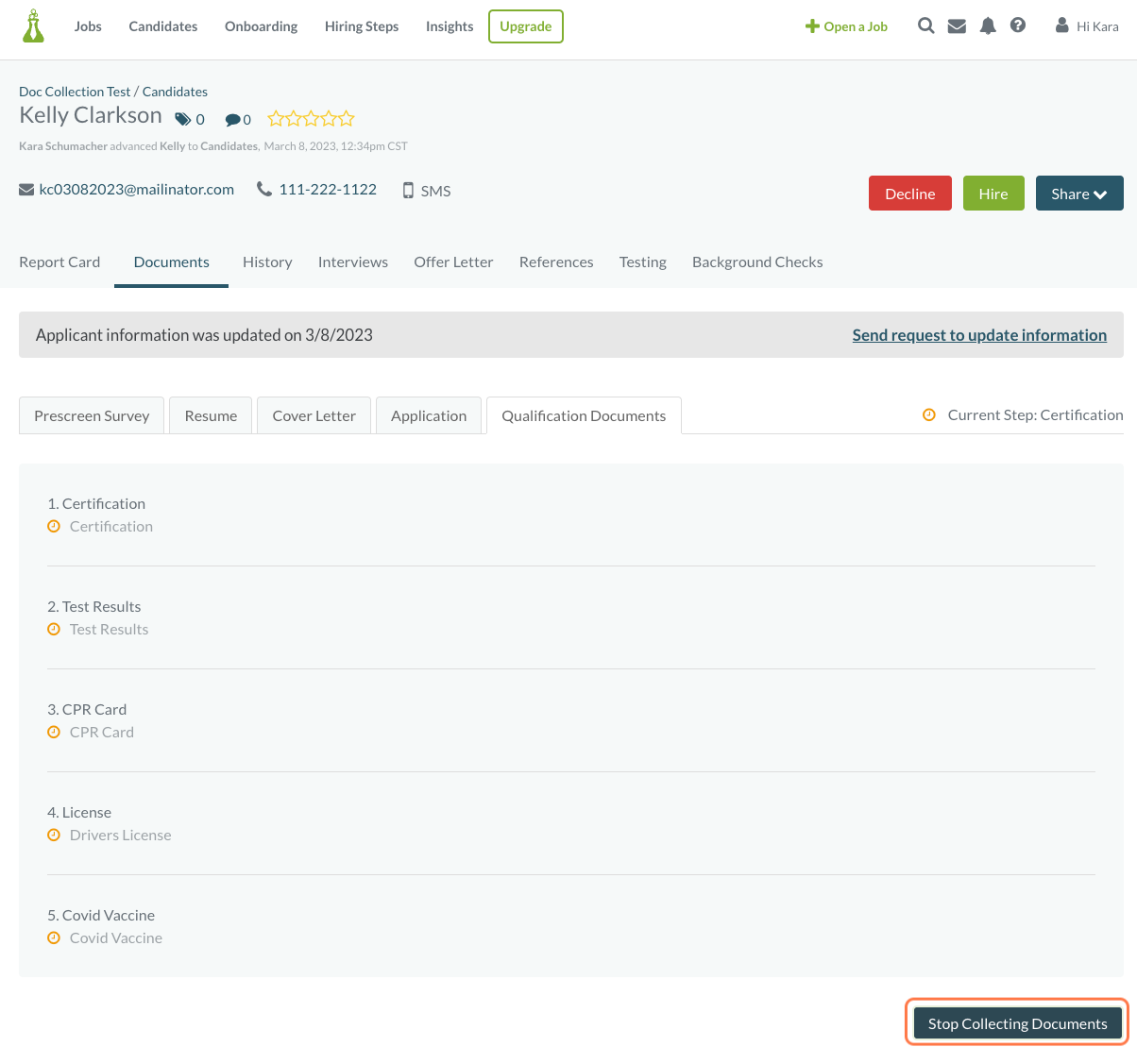 A popup will appear to confirm the request, with the option to log a reason for canceling the process.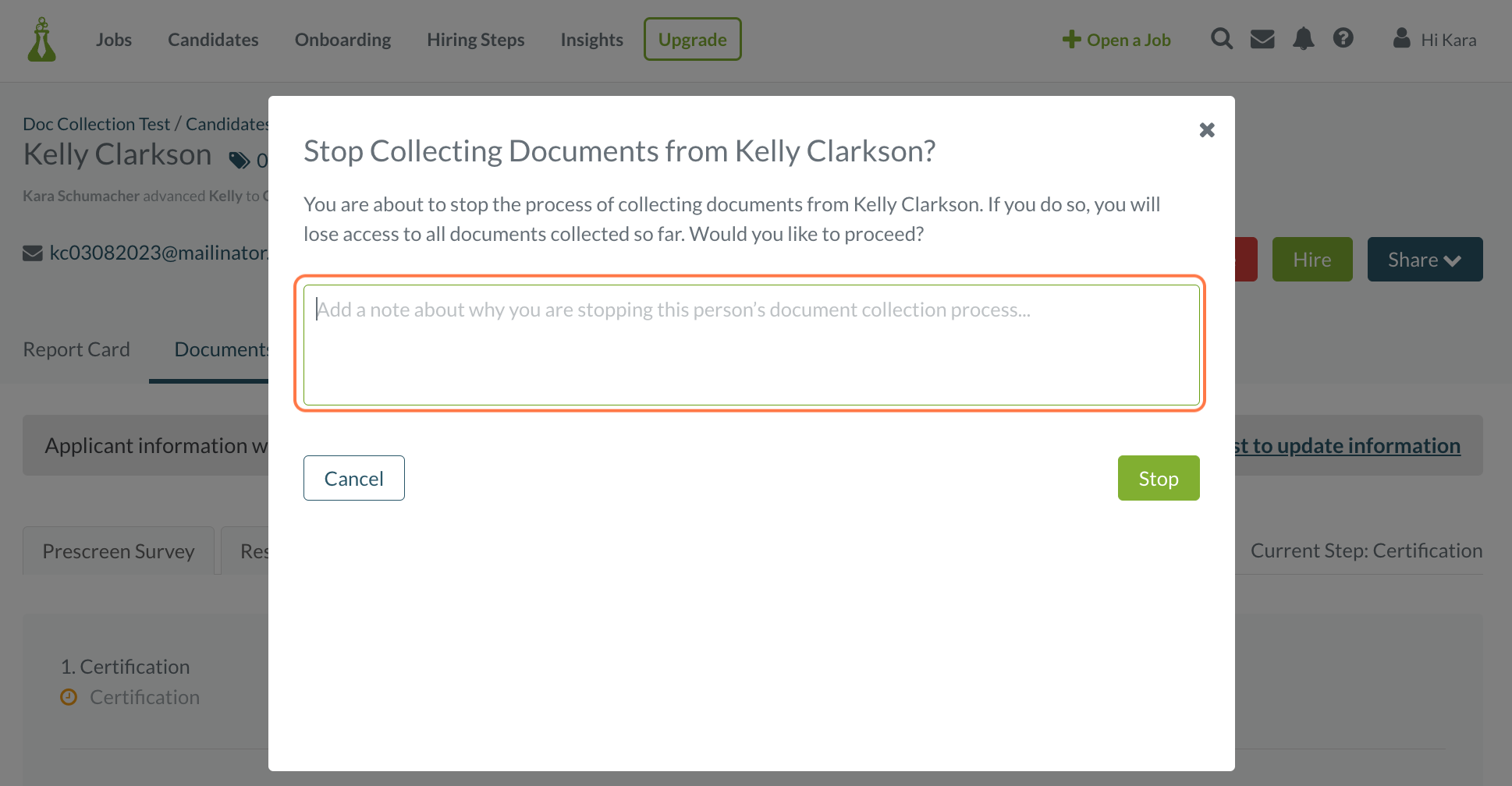 Click 'Stop' to complete the cancellation.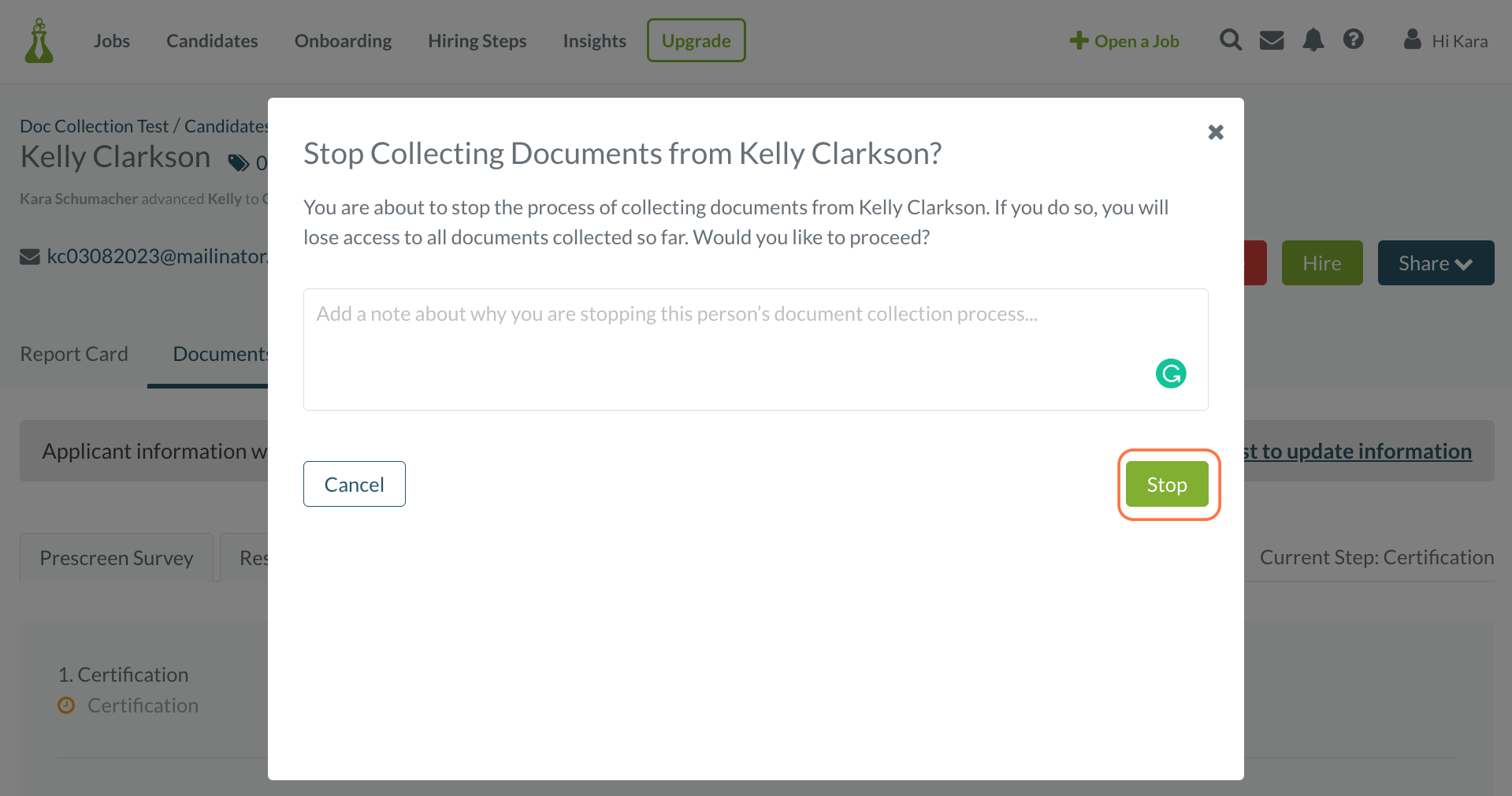 Any completed or outstanding steps will be cleared and the status will change to Canceled.

You can restart the process at any time by clicking 'Restart Document Collection'.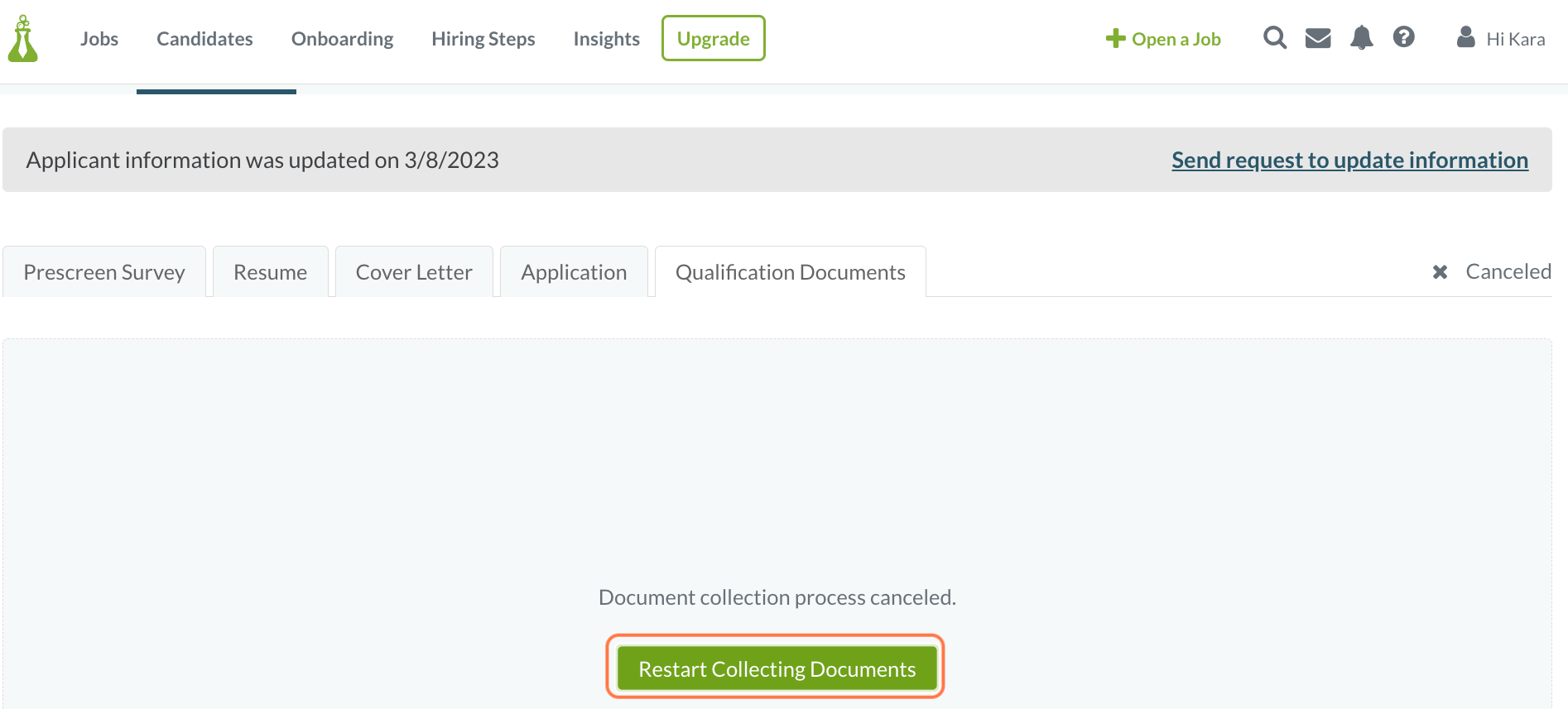 Viewing Document History
When a candidate uploads a document, the action is logged in their History. You can use the filter to display documents only so you can quickly see the progress.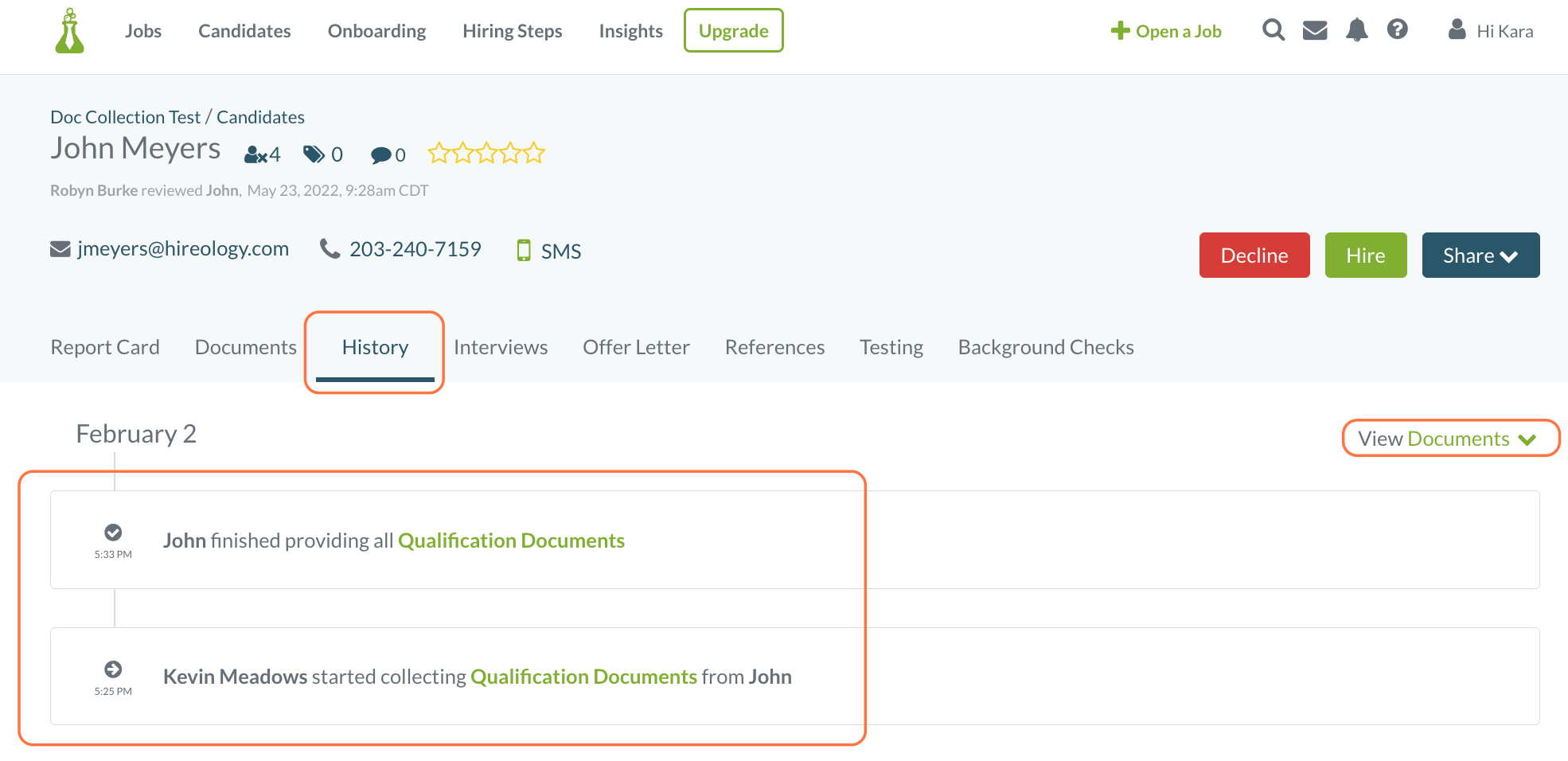 Viewing Uploaded Documents
When a candidate provides a qualification document, the status for that specific step will change to a green checkmark, informing the hiring manager that the step has been completed. Hiring managers can click on this step to download a PDF copy of the document to their computer for review or storage.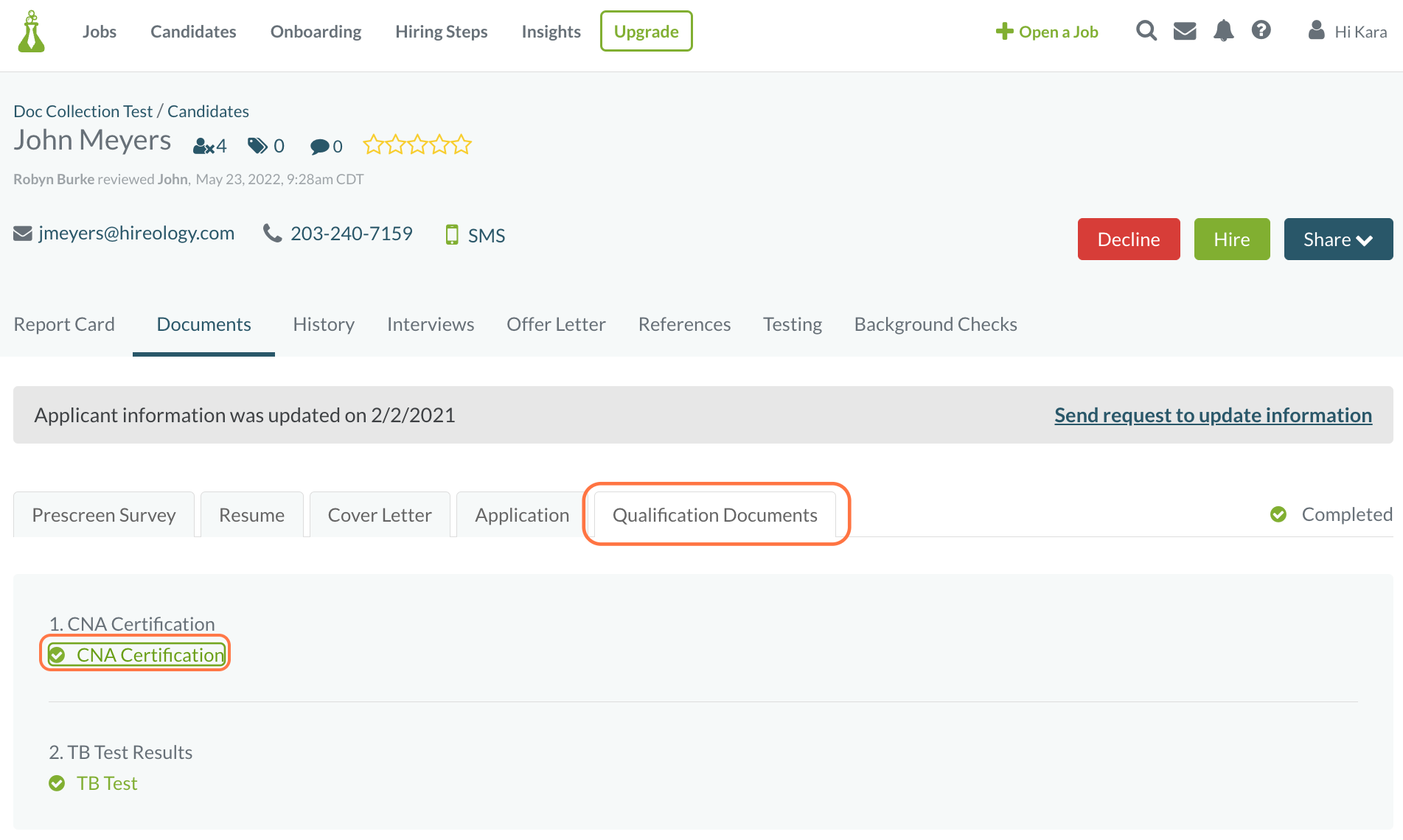 Downloading Qualification Documents
Users have the ability to mass download individual employee onboarding documents in a single action. From the 'Documents' tab, you will now see a new 'Download All Files' button near the top right of your tabs.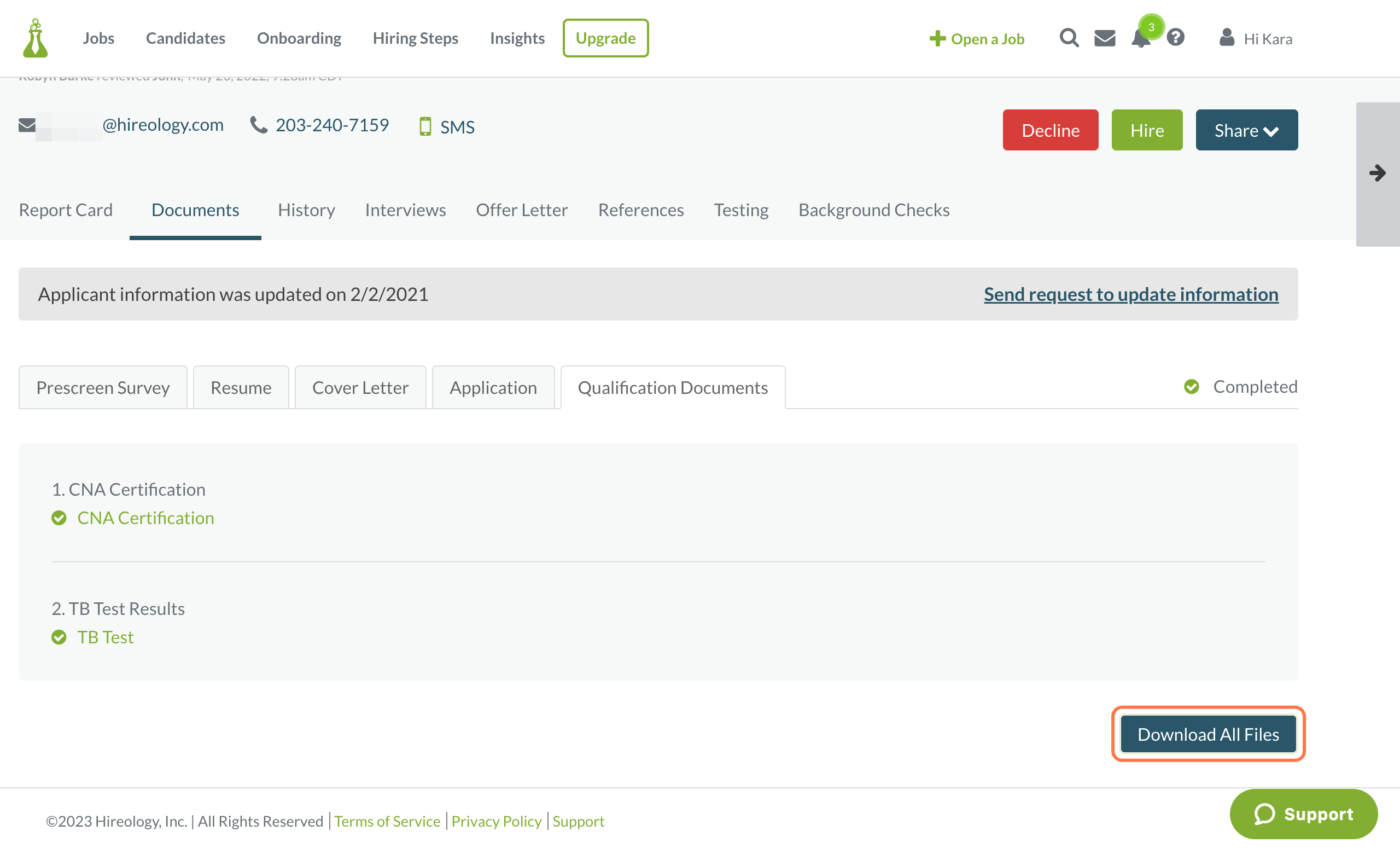 Select 'Download All Files' and the completed Pre-Hire Qualification Documents will download to your computer.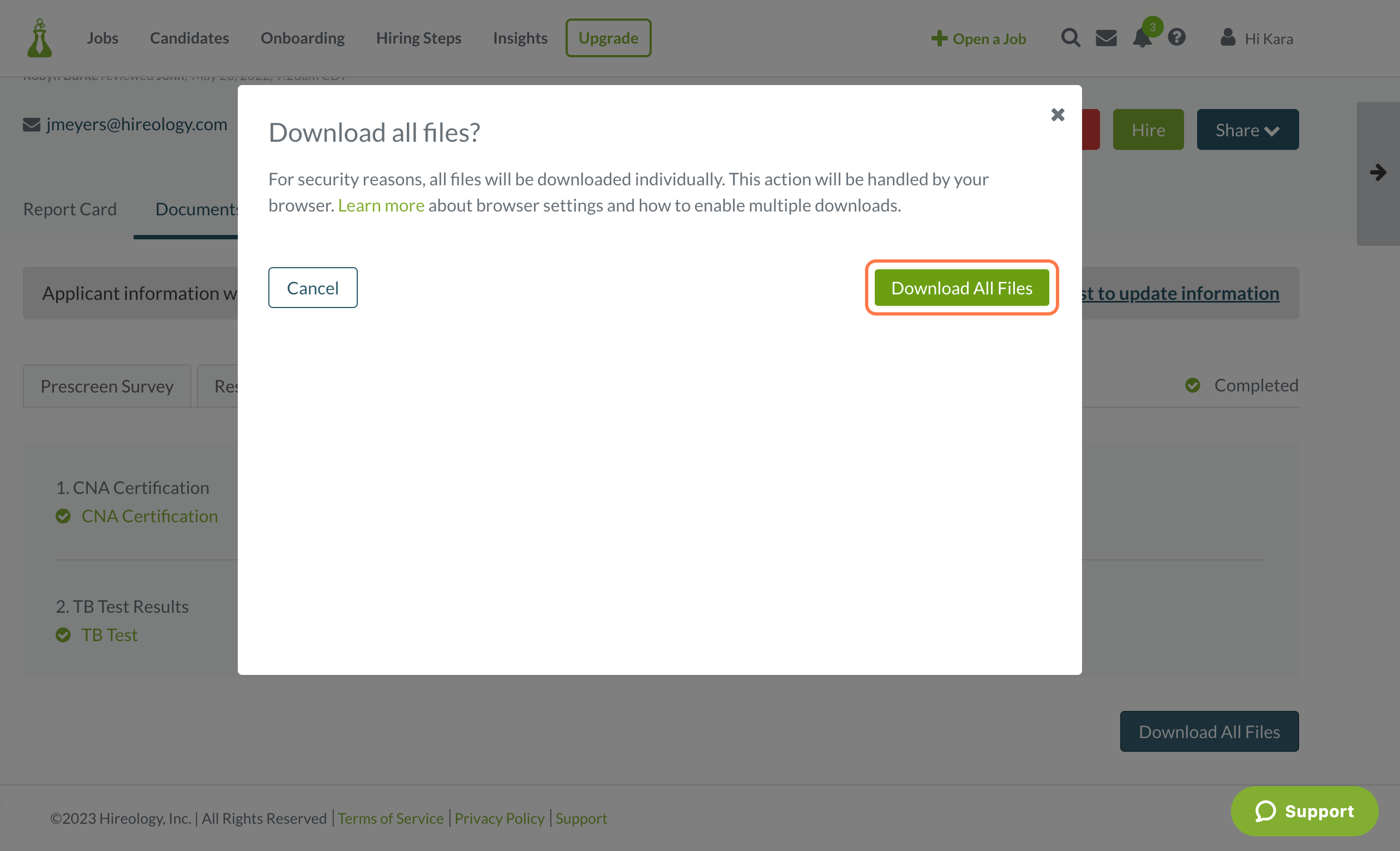 The following process is how we recommend users to download all documents:
Create a file folder on the desktop or other location with the candidate or new hire's name.

Using the above steps, navigate to the candidate or new hire's appropriate documents within the Hireology app.

Click the '

Download All Files'

button.

The web browser may ask you where to save the files. Simply navigate to the folder created in step one.

Note:

Many browsers default to automatically saving files to a Downloads folder. This setting can be changed to ask where to save each time, or you can simply drag and drop the files from the Downloads folder to the appropriate candidate after they are saved.

After confirming the download location, Hireology will download each file, one-by-one, saving them to your destination folder.

Note

: that this may take a few moments depending on the number of files and internet connection.

Once downloaded, you can reference the files or compress the folder into a zip file to share with colleagues.
The Candidate Experience
As soon as the document collection process is started, an email is sent to the candidate asking them to create a secure account with a username, password, and security questions so they can safely upload their documentation.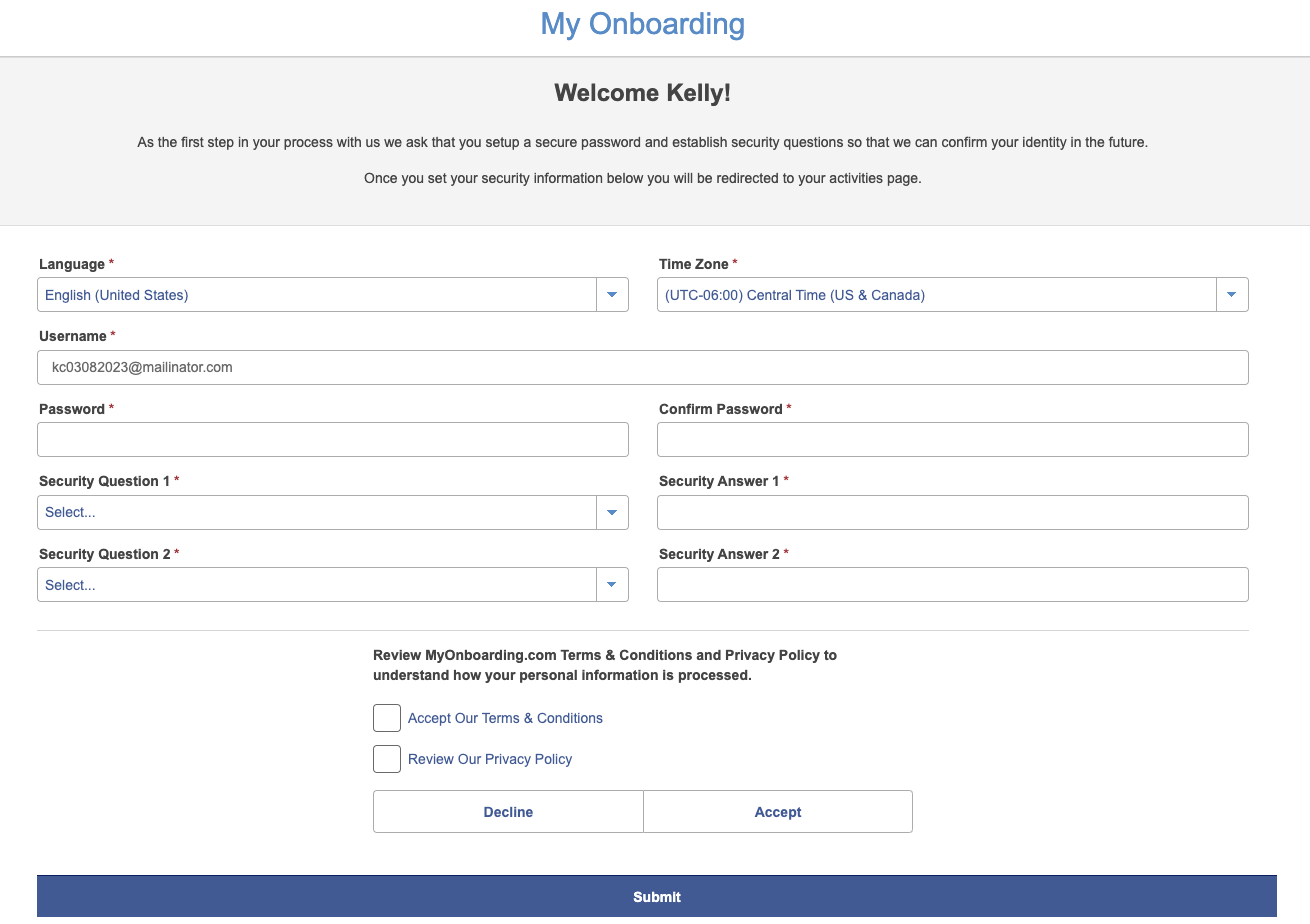 After logging in, they will be presented with an overview of the documents they are required to submit in an easy-to-follow, step-by-step format. Clicking on each step presents the candidate with a screen to easily attach a file.

The candidate experience works with desktop computers, tablets, and mobile phones, ensuring that candidates can manage the document process from virtually any device.
FAQs
Can I track expiration dates for certifications, immunization records, or other time-sensitive materials with document collection?
Currently, tracking time-sensitive materials isn't supported by the document collection experience. We recommend teams use a centralized document to track expiring team certifications or leverage an HRIS system to track up-to-date accreditations.
If a candidate is made inactive in Hireology, will that automatically terminate the document collection process for the candidate?
Making a candidate inactive before canceling document collection will not automatically prevent a candidate from uploading new materials. We recommend that hiring managers cancel the collection process before making a candidate inactive to ensure the process stops correctly.
Can I run multiple document collection steps and/or onboarding programs for a single candidate?
For the best candidate experience, hiring managers can only choose one document collection process and one onboarding process per candidate. Each process can include multiple documents to collect and new hire steps to cover all the necessary documents.
If I transfer a candidate to a new job or location, will in-progress documents also be sent along with the candidate record?
Due to different roles or locations having different onboarding or document collection processes, in-progress documents will be lost if a candidate begins to submit documents before they are transferred. We recommend not starting the document collection process until the hiring manager confirms the candidate is applying for the correct role at the right location.
Can candidates upload documents out of order?
We require candidates to upload documents in order to follow the document collection process. Most candidates already have their certification records ready, so this should be fairly easy for the candidate to complete.
What devices are supported for candidates to upload from?
Document collection is mobile-friendly, supporting a variety of modern smartphones, tablets, and desktop computers.
What if a candidate does not have a document for a step that isn't required?
If you have a document collection step that isn't a requirement and the candidate does not possess this document, they will be able to bypass the step by choosing the Submit button before uploading any document. The workflow will create a blank placeholder document to certify they skipped the step which will be available to review.
How do I update or add onboarding or document collection processes?
We are happy to help you manage your onboarding steps. Just reach out to your customer success representative, or contact support@hireology.com for more details on making updates to your saved document collection or onboarding processes.
If I cancel document collection early, will I be charged for using the process?
We will not bill any activity during document collection. Only new hires following a Hireology onboarding process will impact your billed subscription for our onboarding suite.
How does pricing work with onboarding and document collection? Am I charged by document or each time the document collection process is triggered for a candidate?
Like our standard onboarding offering, you will only be charged per onboarded hire no matter how many candidates you begin to request documents from.
Related Topics