Timely communication is critical in the hiring process to ensure you don't miss out on top talent. Inbox is a dedicated messaging center within the Hireology platform that allows you to stay organized and respond to candidates faster without disturbing your workflow.
In this article you will learn:
Receiving Messages
Applicants and candidates can reply to previous conversations for both open and closed jobs. When a new message is received, a red dot will appear on the envelope icon to alert you. You can access your Inbox by clicking the envelope icon in the top right corner of your account.

When you open Inbox, you will see two tabs, New and Reviewed. All unread messages will be located in the tab labeled "New" while already-read messages will be under the tab "Reviewed".

Messages are also labeled to distinguish between email and SMS, with an envelope icon representing email and a smartphone icon representing SMS.

The applicant or candidate's name along with the job they applied to, timestamp, and message preview will be available to quickly review.
Responding to Messages
When you click on a message, a modal will open to the left of the Inbox. All previous communication history is housed under the message itself, providing anyone on the hiring team the ability to easily jump into a conversation without missing a beat.
Click 'Reply' to respond directly to the applicant or candidate without leaving the screen.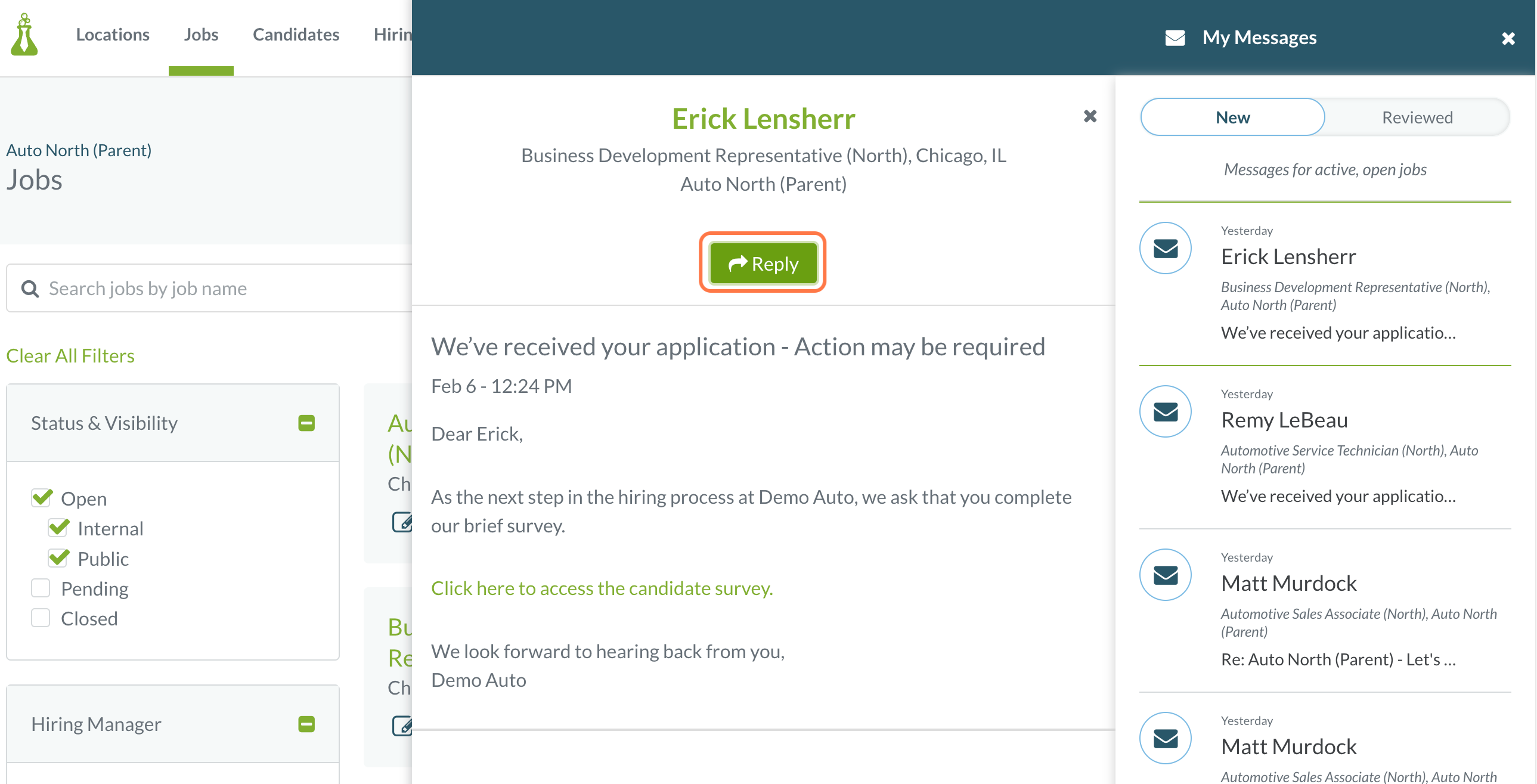 The origin of the message will determine the type of reply you can send. For example, if the origin of the message was via email, your response will be sent via email.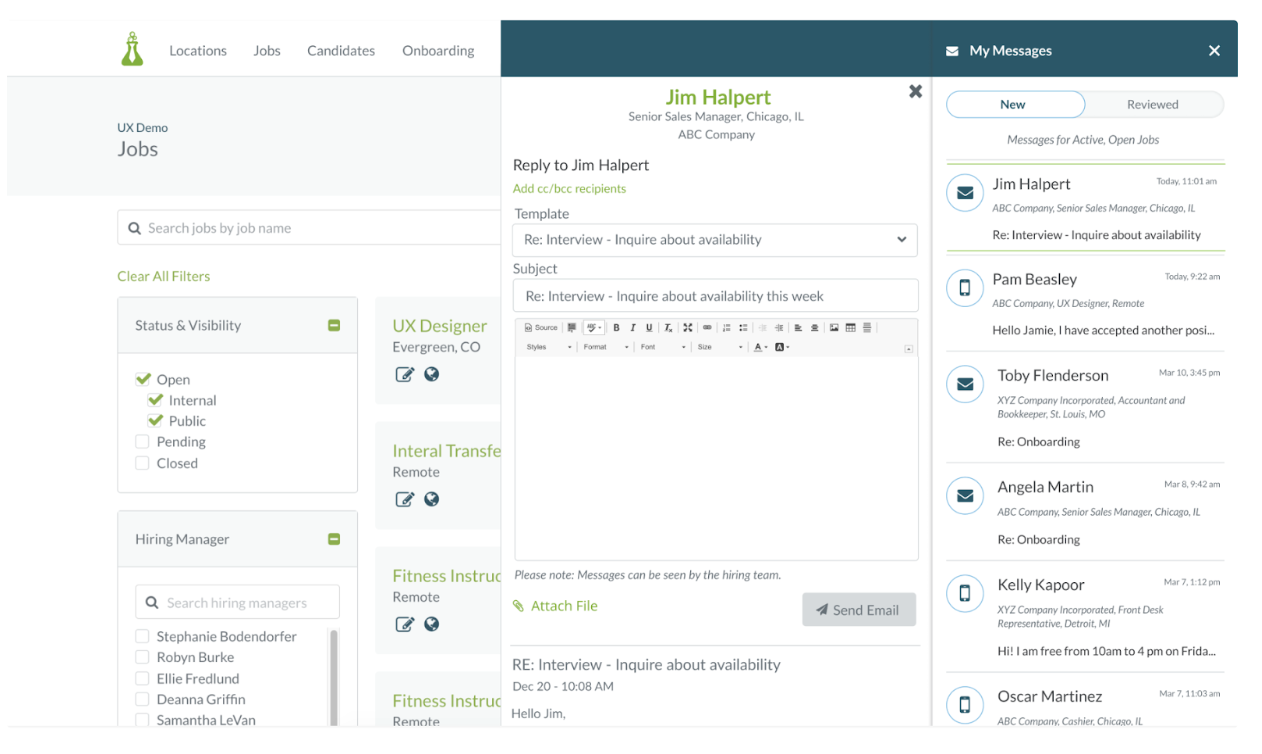 All templates available in your Hireology account are accessible right from Inbox, as well as dynamic fields.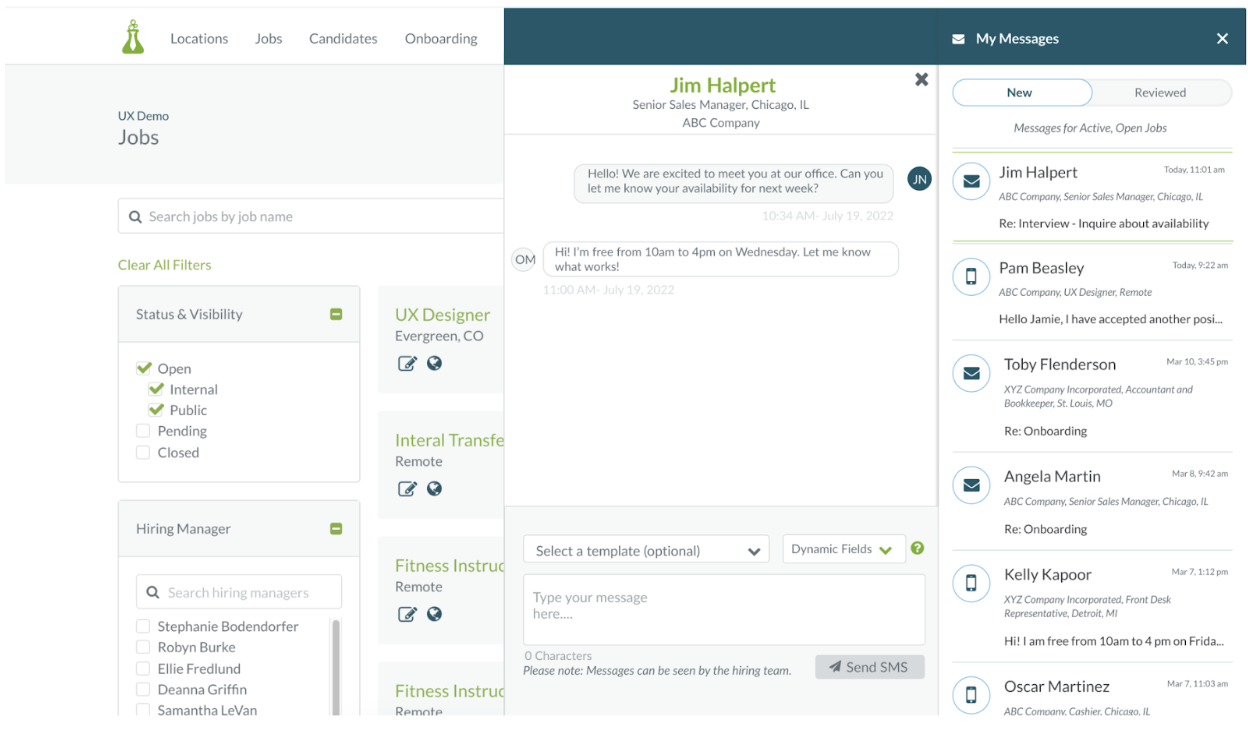 If you would like to open the applicant or candidate's profile, you can click their name to be redirected to their profile page.
Marking Messages as Reviewed
Once you have reviewed a message, click the email or smartphone icon to the left of the message. The icon will be replaced with a checkmark and you will be able to select 'Mark as Reviewed'. This moves the message out of the 'New' category and clears the red "new message" indicator.

FAQs
Can I see messages from applicants/candidates for all locations while "logged in" to one individual location?
Yes, you can view and reply to messages for all locations.
Does the Hireology mobile app have the ability to respond to SMS and emails from applicants/candidates or is this only available on desktop?
Yes, users have the ability to send and receive SMS/Emails on the iOS app. This functionality does not exist for Android.
Is it possible to see messages sent to candidates by others in the organization or do you only see messages you have sent?
You are able to see messages sent by others in the organizations as long as you are on the same Hiring Team. If a candidate is responding to a message another person on your team sent, you can still see that candidate's response. Example: If you and a colleague are on the Hiring Team for 5 jobs, you share all messages with candidates for those 5 jobs.
Related Topics