One of the most effective ways to communicate with applicants and candidates is via text. Hireology offers a built-in SMS tool so you can send texts from within the platform. Candidate's responses to your texts will be logged so you have a record of your conversations.
In this article we will cover:
Candidate Consent
For mobile compliance, all application forms include an option to opt in or out of receiving text messages. For applicants who choose to opt out of receiving text messages when applying, the SMS icon will be grayed out in their profile and will not be clickable. Applicants who opted in can change their preference at any time by replying "STOP" to messages you send them.

Opting out of text messaging for one job does not automatically opt applicants out from receiving messages for other jobs they may apply to in your organization. Applicants will need to opt in or out for each application they submit.
Note: Applicants who are added to jobs manually will be opted out of SMS by default. Applicants who are transferred to other jobs will be opted in or out of SMS communication depending on their choice for the job they are being transferred out of.
Sending Text Messages
To send a text, click on the name of the applicant or candidate you would like to message, then click the 'SMS' icon. You will find this in the top, left side of the profile near their name, email address, and phone number.

After clicking the icon, you can type a message and send it to the candidate. You can also send a message using a template by clicking 'Select a template' and choosing the template you would like to use. It's a good idea to read through the template before sending it to make sure everything looks good!
IMPORTANT NOTE: Messages are sent from a Hireology system-generated number to protect your privacy. It is always best practice to include your name and company name in the first message so that the applicant knows who you are.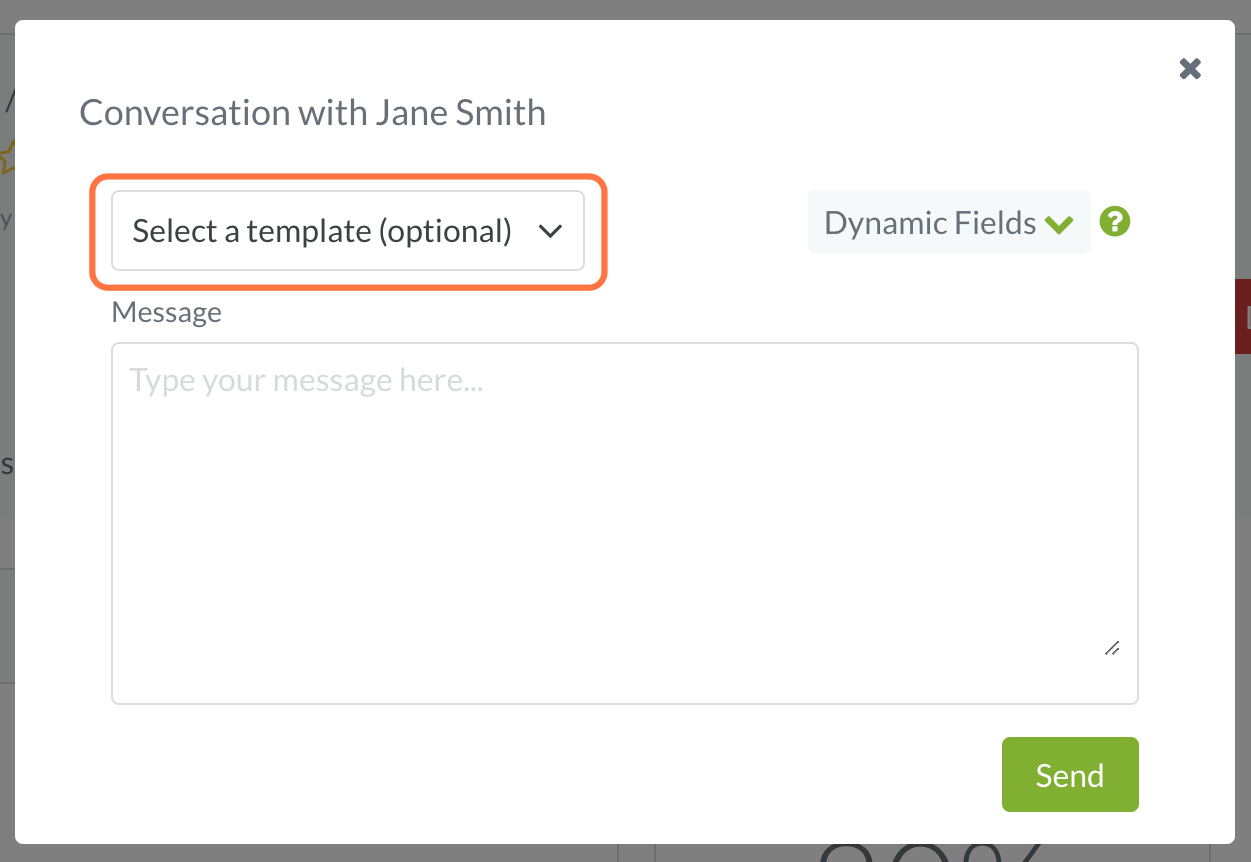 When you click 'Send', the applicant will receive a text message. The first time you text an applicant, the message will include instructions on how to opt out of receiving additional text messages by replying "STOP". If they choose to opt out at this point, you will receive a notification and will no longer have the option to message them again via text message about that job.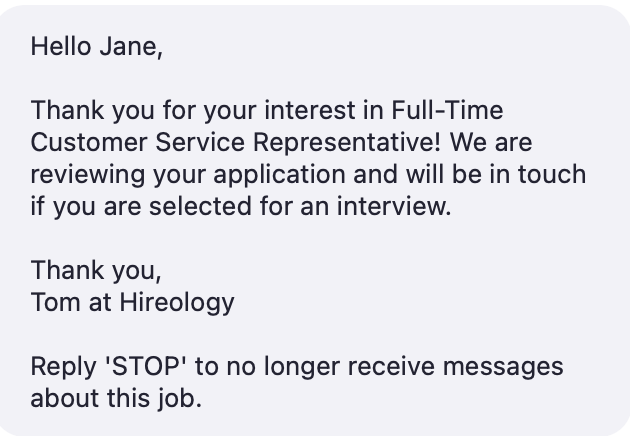 Mass Texting
The SMS tool supports mass texting for situations when you would like to send the same message to multiple applicants or candidates at once. You can send a mass text by clicking 'Jobs' in the top, left corner of your Hireology account.

Next, click on a job title to access the applicants and candidates who have applied for that job.


Check the boxes next to all of the individuals you wish to communicate with then click the "SMS" button on the menu bar within the job. Please note, you can select multiple applicants or multiple candidates but not a combination of applicants and candidates.
After clicking the SMS icon, you can type a message to send to the selected recipients. You can also send a message using a template by clicking 'Select a template' and choosing the template you would like to use. Click 'Send' to send the message!

NOTE: You will not be able to send mass texts to candidates who have opted out of receiving SMS. If a candidate who opted out is selected to receive a mass SMS, their name and phone number will be highlighted in red in the Send Mass SMS Message pop-up window.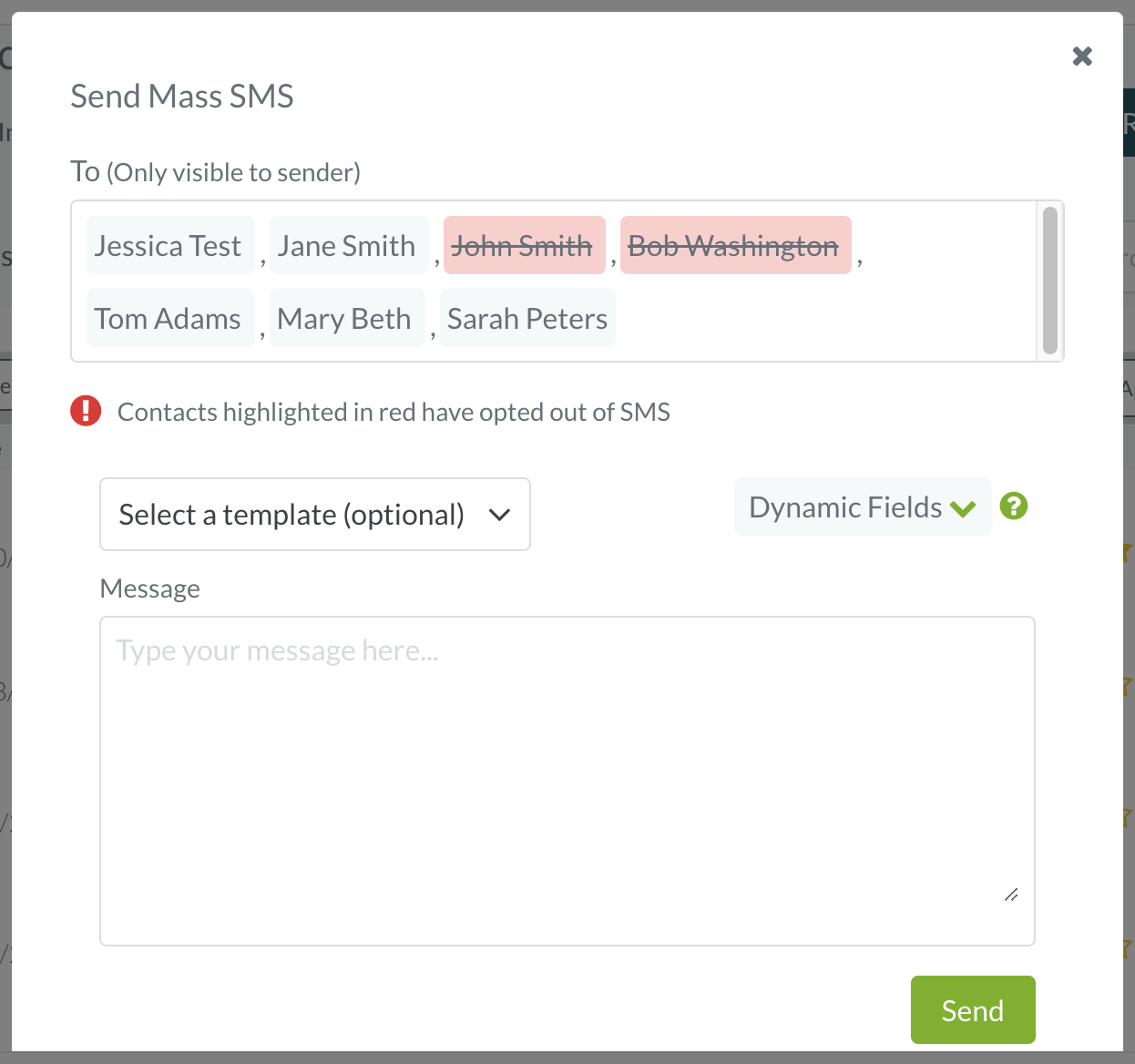 Receiving & Replying to Text Messages
When an applicant or candidate responds to a text message, you will receive an email alerting you to the response. The email will include a link to log into your account where you can access your Inbox to read the message and reply.

For privacy and to track all communication in one place, text messages will not be sent to a hiring manager's personal cell phone number. You can reply through Hireology from a laptop/desktop or mobile device by logging into your account.
Marking Text Messages as Reviewed
Once you have reviewed a text message, click the smartphone icon to the left of the message. The icon will be replaced with a checkmark and you will be able to select 'Mark as Reviewed'. This moves the message out of the 'New' category and clears the red "new message" indicator.

Reviewing Past Applicant / Candidate Texts
All correspondence you've had with applicants or candidates using the SMS tool is logged in your Hireology account. You can view conversations on the applicant or candidate's History page or by clicking the SMS icon within their profile.
To view conversations, search for an applicant or candidate and open their profile. Click the 'History' tab to see the email and text message communication with the individual. You can also click the SMS button within the applicant or candidate's profile to see the conversation history.

Related Articles