Hireology offers the ability to automatically refresh your jobs every 60 days with organic job board feeds when first opening a new role, as seen below. This enhancement removes the need to manually close and re-open a job every 60 days to ensure it remains visible on leading job boards.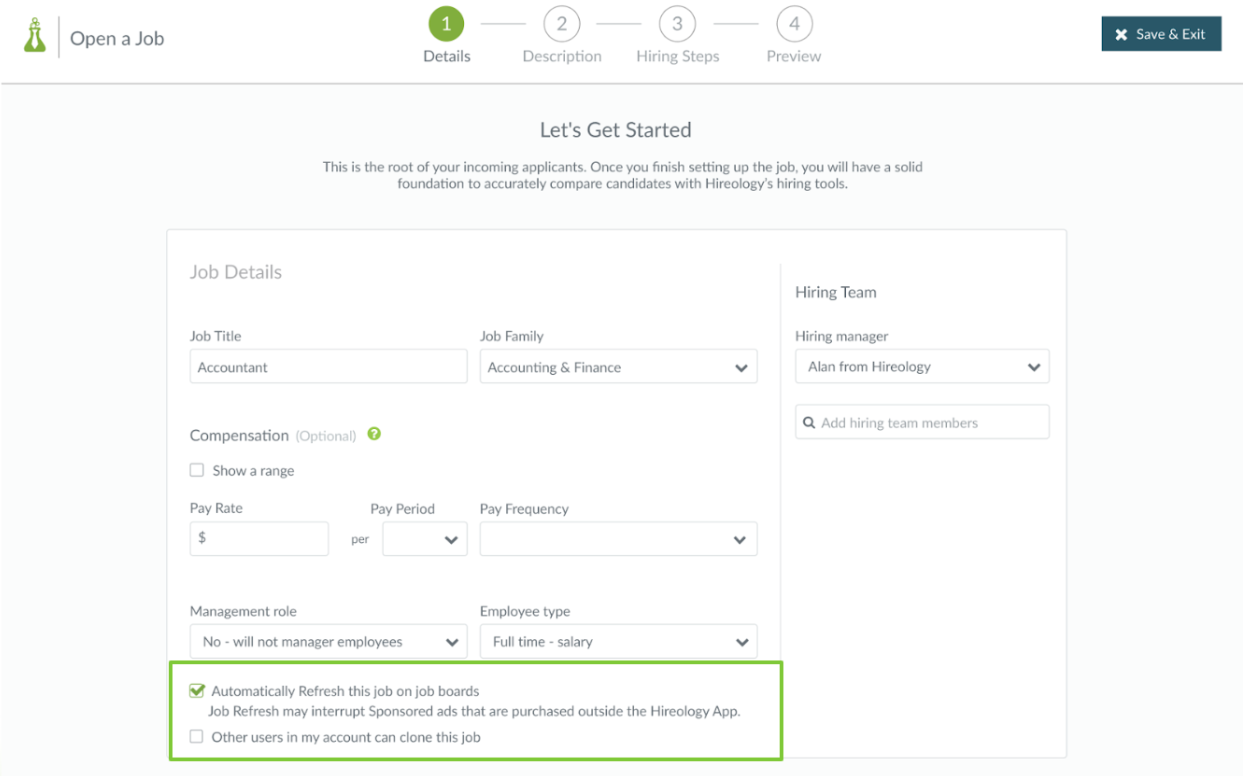 What is automatic job refresh?
Users can select to opt-in to automatically refreshing their new job every 60 days after opening it. This means once 60 days have passed from originally opening the job, a new 'job id' and 'open date' will automatically be sent to leading job boards, so no action is required from the user.
If you don't initially choose this option, users can also use the new 'Refresh' button on the jobs details page to manually trigger a job refresh as seen below, provided the role has been opened for 60+ days. Once selected, Hireology will confirm that the job is eligible for refresh, and display the open date and the next refresh date. It may take up to 48 hours for your job to be re-syndicated on all of Hireology's job board partner sites.

What does 'refreshing' your job do?
After a period of time, your job will become stale on certain job boards and its possibility of being seen will slowly diminish as new jobs are added to the feed. Refreshing your job means that you will send the same job branded as 'new' to job boards in order to boost your visibility to a new set of applicants.
Where can I view the date my job is refreshed?
A user can view all activity regarding job refresh in the details of the job itself. Once in the job details, scroll down to 'Recent Activity' to view this information. The refresh date is based off the most recent open date, or the latest refresh date, whichever is most recent. For example, if the job was opened or reopened on 9/30, the refresh date will be based off of that date.
Note: You will see the original open date internally within the jobs dashboard. Please navigate to 'Recent Activity' to locate the new date that is sent to all job boards when the job is automatically refreshed.
What happens to the applicant data once refreshed?
All applicant and candidate data will stay housed under the same job even after it has been refreshed, no need to manually transfer any of that data over.
What happens when I sponsor a job that is currently selected to auto refresh?
Auto refresh will be paused for jobs that are sponsored through Hireology. Once the sponsored listing is complete, job refresh will resume automatically.
Do all users have the ability to refresh jobs?
All users on the account can see the 'Refresh' button, allowing them to click into it to see when the job will refreshed. However, only users with edit permissions will be able to check and uncheck the box.
Can I opt out of job refresh?
Yes, all users have the ability to opt out of job refresh. However, we strongly encourage to have this running for open roles to ensure they remain visible to active job seekers.