EmployUs takes security seriously. We have a constantly evolving security program, with regular security reviews and training. We also utilize Google Cloud Platform for hosting, which allows us to have best-in-class security at the data center level.
Product Security
While developing, we utilize a rigorous code review process. EmployUs also utilizes the Google Cloud Security Scanner, which runs regularly and produces a report and alerts us of any potential vulnerabilities so that we can respond quickly.
Resiliency / Availability
Our main application is hosted in a Google data center, and data is backed up to second data center location. In the unlikely event that our main data center was not available (Google Cloud Platform has a 99.95% SLA and Google Cloud Storage has a 99.9% SLA), our application can be quickly redeployed in one of Google's other data centers.
Data Center Security and Compliance
EmployUs utilizes Google Cloud Platform for hosting, which has state of the art hosting facilities and security protocols. See the Google Cloud Platform Security page for more information. Google is also audited yearly for SOC 1, SOC2, and SOC3 and ISO 27001, ISO 27017, and ISO 27018.
Encryption in Transit and at Rest
EmployUs uses HTTPS (TLS 1.2) for user-facing connections. Google Cloud Platform utilizes TLS 1.3 for internal connections.
Google Cloud Platform encrypts customer content stored at rest, without any action required from the customer, using one or more encryption mechanisms. Hard disks (HDD) are encrypted at a minimum at AES128 and new solid state drives (SSD) are encrypted at AES256.
For more information, see the following documents: Encryption at Rest, Encryption in Transit.
Disaster Recovery
In addition to utilizing Google's automatic failover in case of disaster, EmployUs has a Disaster Recovery plan that is tested regularly. This plan includes deploying our application and data to a new data center, and can be accomplished from scratch in under an hour.
Minimum System Requirements
Below are the preferred, minimum system requirements for the full use of our products.
PC Operating Systems:
Phone Operating Systems:
Browsers:
Google Chrome 67.x (macOS and Windows)
Firefox 60.x (macOS and Windows)
Safari 11.x (mac), 5.x (Windows)
Internet Explorer 11.x (Windows)
Microsoft Edge 42.x (Windows)
White-Listing & Domain Verification
Our web-based product is deployed in the Cloud. To ensure the successful deployment, two prerequisites must be met:
Email Whitelisting (so emails can reach employees)
Network Whitelisting (so employees can access the product on your network)
Email Whitelisting
In order to ensure that users can successfully receive emails that they opt into through us, please have your Corporate IT department add us to your corporate email whitelists or enable single sender domain verification.
Single Sender Domain Verification:
You can enable single sender domain verification to send from your own email address, typically careers@company.com or referrals@company.com. In order to set this up, please fill out the following form: https://airtable.com/shru2ZWqF8jCqPLsm. Contact your support for client specific details and testing steps.
Domain Whitelisting
In order to ensure that users can successfully utilize our application in their browser, please have your Corporate IT department add the following to your corporate network whitelists.
Network Whitelisting
*.cadientreferrals.com
*.text2refer.com
*.refer-us.com
*.employus.com
*.sensereferrals.com
Testing
Point your browser to: https://refer-us.com/avengers
If you are able to load the page and view jobs similar to the ones in the page shown in Figure 1 below, the whitelisting has been setup properly.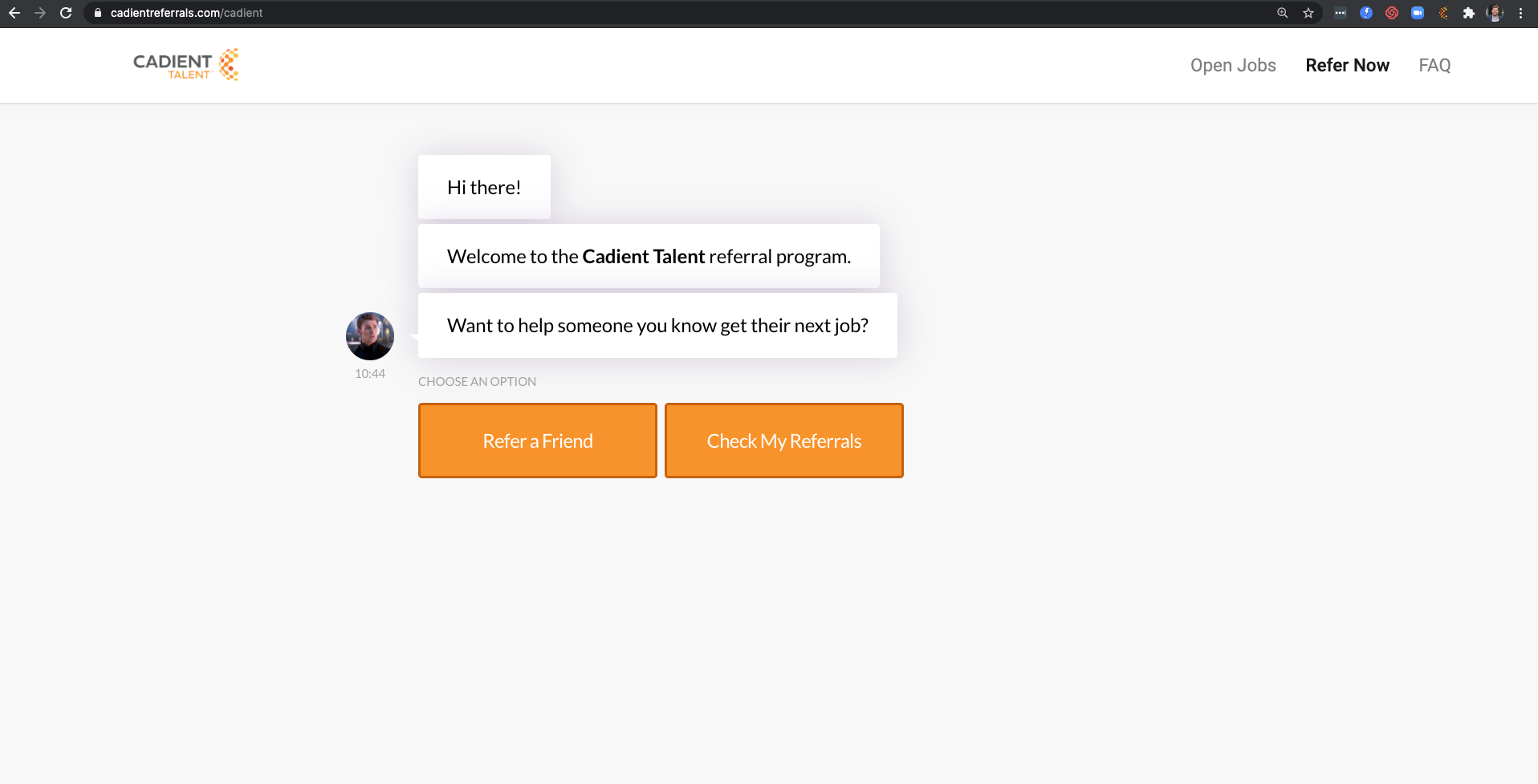 If the page does not load or you cannot view jobs, please work with your IT department to ensure that the domains (as noted in the Domain Whitelisting section above) has been whitelisted on your corporate network. If IT has validated that it is properly whitelisted and you are still having issues loading the page or viewing jobs, contact support.
Set Up Single Sign On (SSO)
Single sign-on (SSO) is a method for authenticating users where a single set of credentials can be used to log into several different applications. This is especially useful in a corporate setting, when you want your employees to be able to access a variety of applications using their company credentials.
Common SSO Providers
To get started, you'll need to set up a connection (or connector) for EmployUs with your IDP. Many providers are already integrated with EmployUs.
Okta
Azure
Google
OneLogin
PingIdentity
ADFS
vmware
SAML
OpenID
Set Up Active Directory (AD)
Organizations use directories from providers like Okta or Workday to easily manage employees and user access to resources. Directories enable IT admins to activate and deactivate employee accounts, create groups that inform access rules, accelerate adoption of new tools, and more. Directory Sync connects your application with their directories, keeping your app informed of any changes in their users, groups, and access rules. Get seamless user lifecycle management for both you and your customers by keeping your app in sync with their employee directory.
Common AD Providers
Workday
BambooHR
Google
Azure
Okta
SCIM 1.1
SCIM 2.0
Gusto
Rippling
To get started, you'll need to set up a connection (or connector) for EmployUs with your IDP. Many providers are already integrated with EmployUs.
Azure AD SCIM
BambooHR
G Suite
Gusto
Hibob
JumpCloud SCIM
Okta SCIM v1.1
Okta SCIM v2.0
Rippling
SCIM v1.1
SCIM v2.0
Workday
Next Steps
In order to set up SSO and/or Active Directory, please contact support or complete this setup form by clicking the button below.