Hireology integrates with myCNAjobs, the nation's largest career network for caregivers, certified nursing assistants, and home health aides. The integration enables our shared customers to find talent on one of the leading healthcare-specific job boards and complete an objective and compliant hiring process. For the integration to be successful, a customer needs to have an active myCNAjobs account and an active Hireology account.
In this article we will cover:
Why connect your Hireology account and myCNAjobs?
Hireology and myCNAjobs will help you provide a great candidate experience, consolidate vendors, and decrease time to hire. From connecting with engaged applicants on the myCNAjobs network to running a customized hiring process that includes candidate document collection, background checks, drug screens, references, and digital onboarding, this integration helps you better connect with top applicants and bring them into your team.
Hireology's Sourcing Insight provides direct visibility into how myCNAjobs is driving hires and ROI as a broader recruitment marketing channel. This data can then be used to optimize spend and eliminate sources that aren't driving results.
Activating the Integration
To enable the myCNAjobs integration for your Hireology account, please contact your myCNAjobs Customer Success Manager or support team. Integrations are typically turned on within 1 business day.
How the Integration Works
Once the integration is live, all jobs created and opened in Hireology are immediately posted to myCNAjobs. As job seekers apply to your open roles or participate in career fairs on myCNAjobs, all application data will be automatically pushed to your Hireology account under the Applicants tab. The following applicant data is collected:
First Name

Last Name

Email

Phone Number

Resume
Applicant data can also be collected manually by hiring managers via the Resume Marketplace on myCNAjobs. Once collected, this data will be used in your Hireology hiring process like any other applicant source.
Tracking Applicant Data
In Hireology Insights, the applicant source for candidates originating from myCNAjobs will read "myCNAjobs."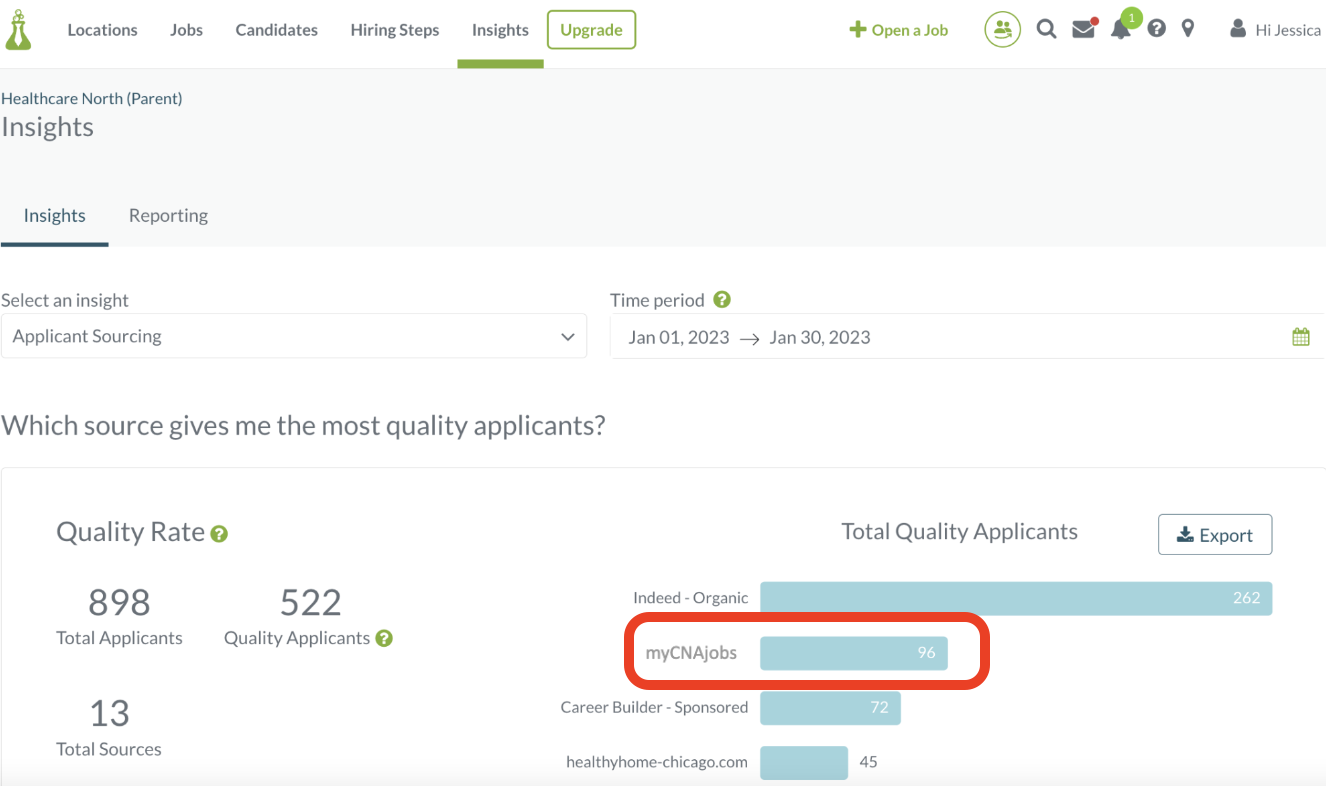 This source will also appear in the applicant list for any open job for applicants who originated from myCNAjobs.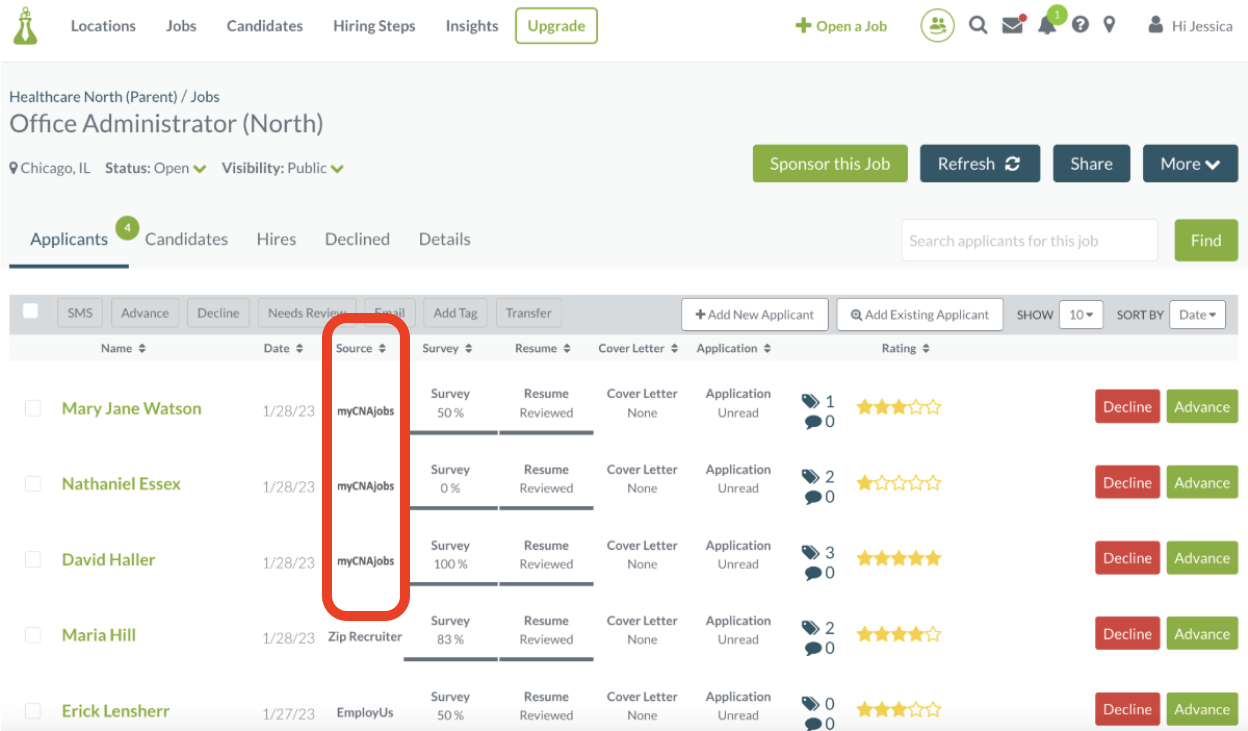 Finally, the source will also be displayed in the History tab for each applicant, along with the date and time they applied to the role.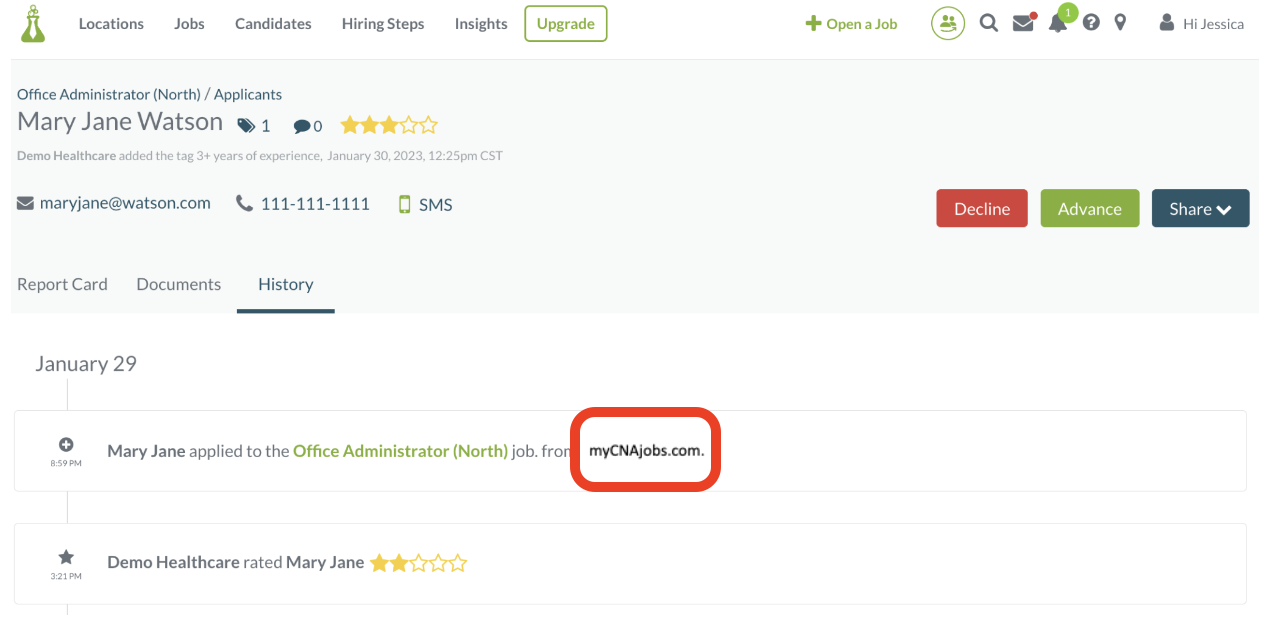 Integration Cost
This integration requires the Integration Bundle available to myCNAjobs customers. If your account does not currently include the bundle, you will need to upgrade your subscription with myCNAjobs before you can activate the integration which may increase your cost. There is no additional fee from Hireology to activate the integration.
FAQ
When the integration goes live, are my currently open jobs pushed to myCNAjobs or just new jobs that are opened following the integration? Jobs that are already open will be pushed to myCNAjobs, along with all newly opened jobs moving forward.
Integration Support
If you have any additional questions, please contact your Hireology Customer Success Manager or support@hireology.com
Related Topics