Hireology has partnered with ADP Workforce Now to offer a payroll option that works directly with our recruitment marketing and CRM platform. You can seamlessly transfer new hire data from your Hireology account directly into ADP.
In this article we will cover:
How the Hireology // ADP WFN Integration Works
ADP is a one-way integration in which new hire data is seamlessly pushed from Hireology into ADP. The following new hire data will be sent from Hireology:
First Name

Last Name

Email

Hire Date

Street Address

City

State

Zip Code

Country

Phone
Optional Fields:
Location

Department

Business Unit

Company Code
Enabling the ADP Integration
To enable this integration, Hireology customers must first visit the ADP Marketplace to purchase and install the Hireology Data Connector. ADP charges a $10 per month per account fee for its users to be able to connect with Hireology.
After the Hireology Data Connector purchase and setup is complete, reach out to your Customer Success Manager or Hireology Support support@hireology.com to enable the ADP integration in your Hireology account.
Please share your ADP Organization OID with your Hireology contact.

If you have multiple locations, please also provide details around which location should be mapped to a department, business unit, or company code.
Setting up the "Applicant Onboard Template" in ADP
ADP customers will need to set up "Applicant Onboard Templates" in order to sync new hire data seamlessly between systems. To set up this template, follow the below steps.
NOTE: The following directions describe a process that is dictated and facilitated by ADP. Screenshots are not included.
Log in to your ADP account

Click

SETUP

in the top blue toolbar in ADP

Select

Template Management

from the drop-down

Select "HIRE/REHIRE" under Template Management
If you have the template "Applicant Onboard" in this list Select the "Applicant Onboard" template and click ASSIGN USERS. If the Applicant Onboard template is not available- proceed to step 7.
To proceed, you MUST have these two profile groups selected in the below screenshot below. If you do not, contact the main Practitioner role/Admin who manages your ADP account.
Select any existing new hire template with the word "(System)" at the end of it. Click copy. Name the new template "Applicant Onboard" -Note: The naming of the template is case-sensitive and must match exactly.

Select the "

Applicant Onboard"

template and click

ASSIGN USERS

You MUST have the two profile groups in the below screenshot visible here to proceed. If you do not, contact the main Practitioner role/Admin who manages your ADP account.

Click

NEXT>NEXT>DONE

(unless you want to modify these two areas)
Syncing New Hires to ADP
To sync a new hire to ADP, first ensure that the integration is included in the hiring process of any open jobs of applicable roles. You can review how to do so here.
Once a candidate is marked as 'Hired', navigate to the "Hires" tab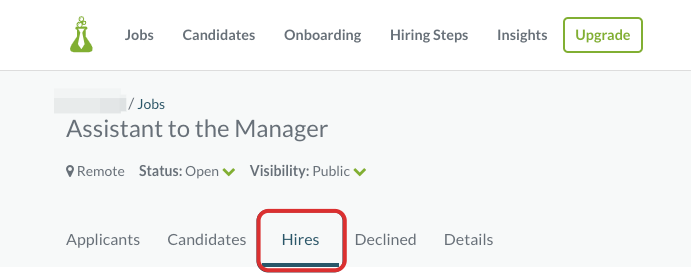 Select "sync" and the data will then be transferred from Hireology to ADP. You will see the field shows "Synced" once complete

Accessing New Hire Data in ADP
After syncing each new hire, login to ADP Workforce Now and select Process from the top navigation then click Hire/Rehire under HR. You will see your new hire data displayed under the In-Progress Hires tab.
Related Topics