The reporting available in your Hireology account provides insight into your hiring velocity, hiring process adherence, and applicant sourcing. You can also view reporting related to candidate and background check status.

Important Note: It can take up to 2 hours for Insights to show new information.
In this article we will cover:
30 Day Overview
To review insights or reporting data, click the 'Insights' tab.

The 30-Day Overview insight showcases high-level data for the last 30 calendar days. This insight is specific to the last 30 days so the time frame cannot be customized.

The overview links to more detailed reporting for Hiring Velocity, Process Adherence, and Applicant Sourcing.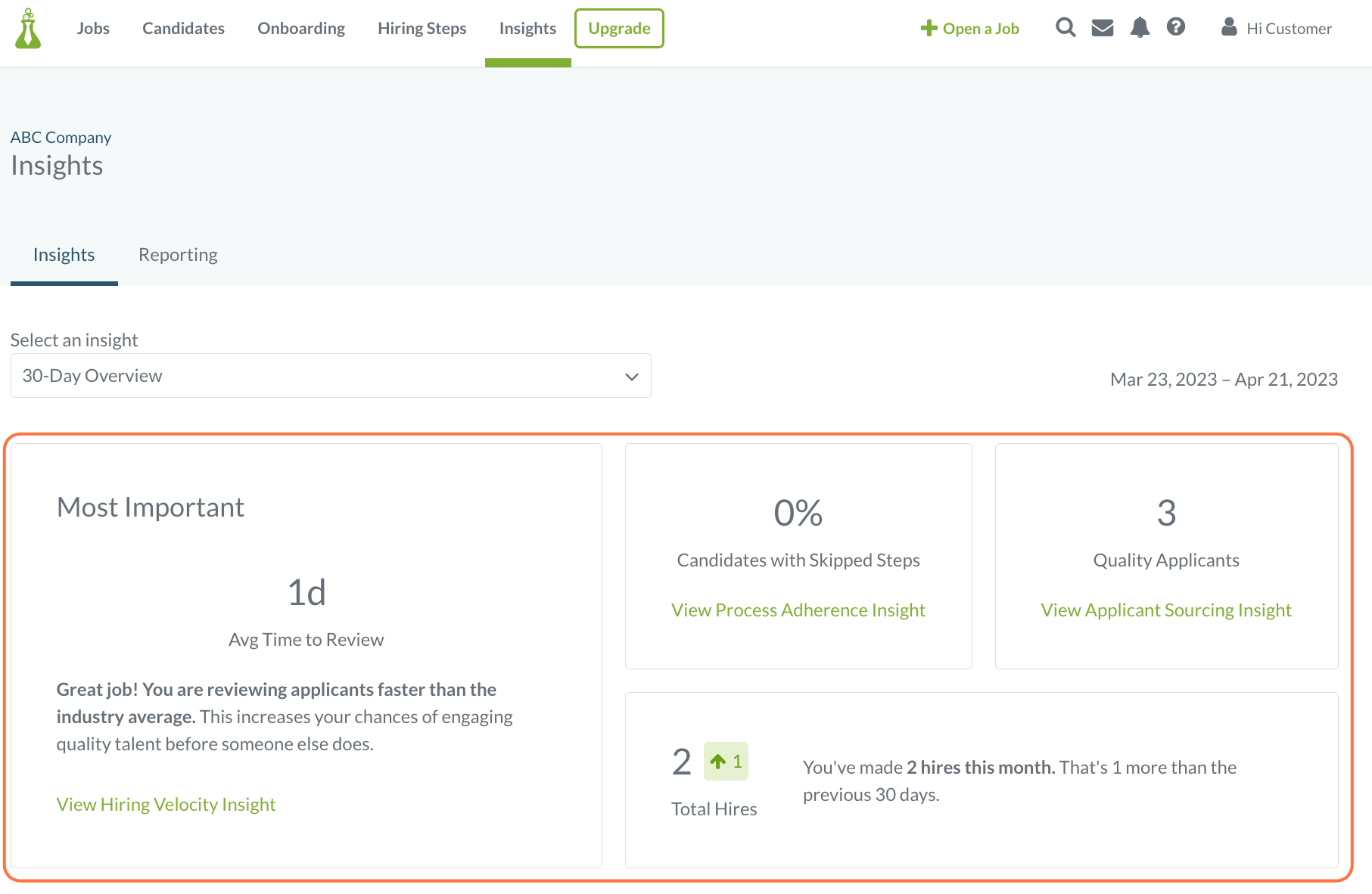 You can also review your Fill Rate for the last 30 days. Fill rate is based on how many jobs were opened in the last 30 days and how many hires were made for those jobs in that time.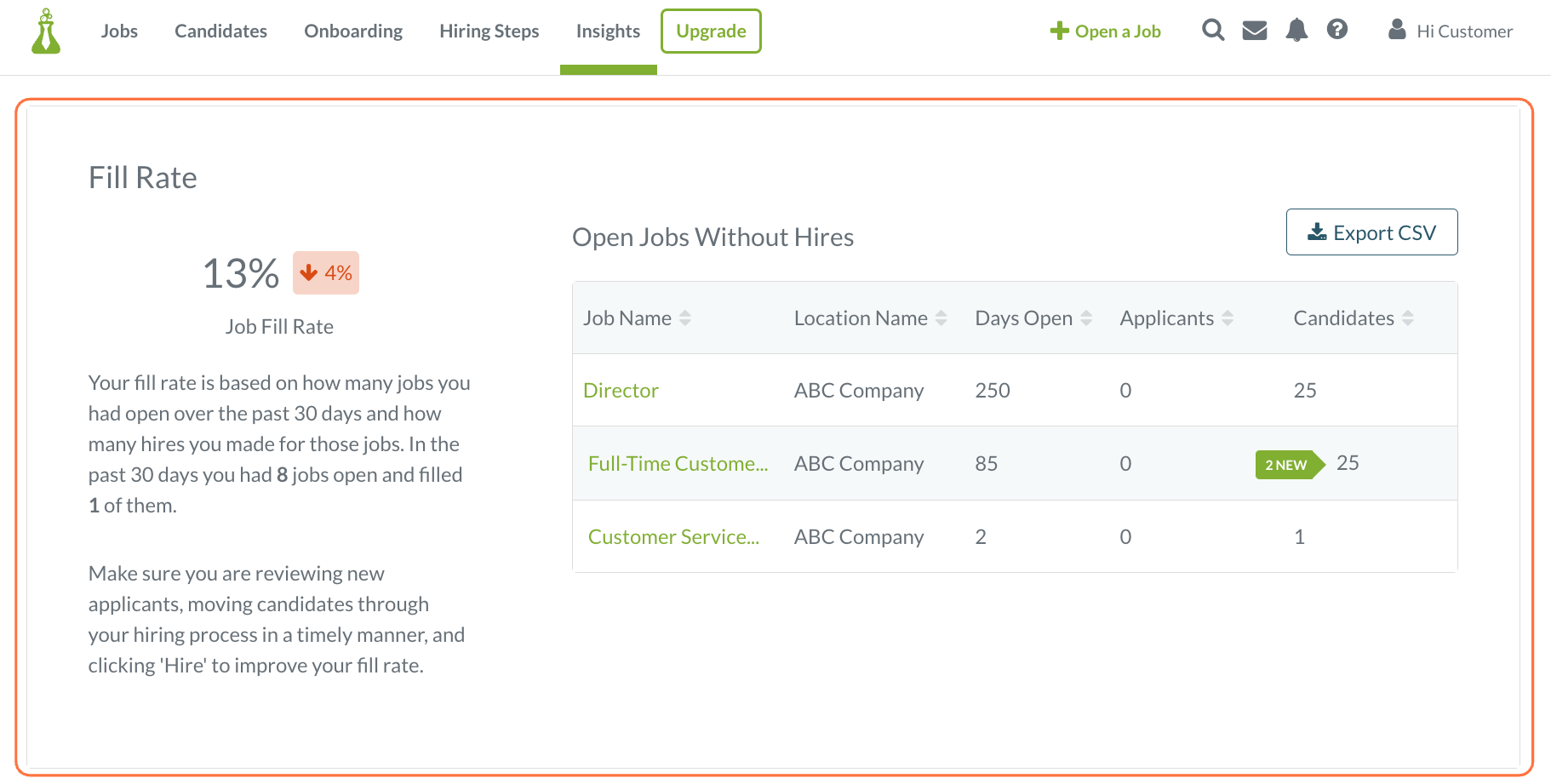 The Closed Jobs Without Hires section shows roles that were closed in the last 30 days without anyone being marked as 'Hired'.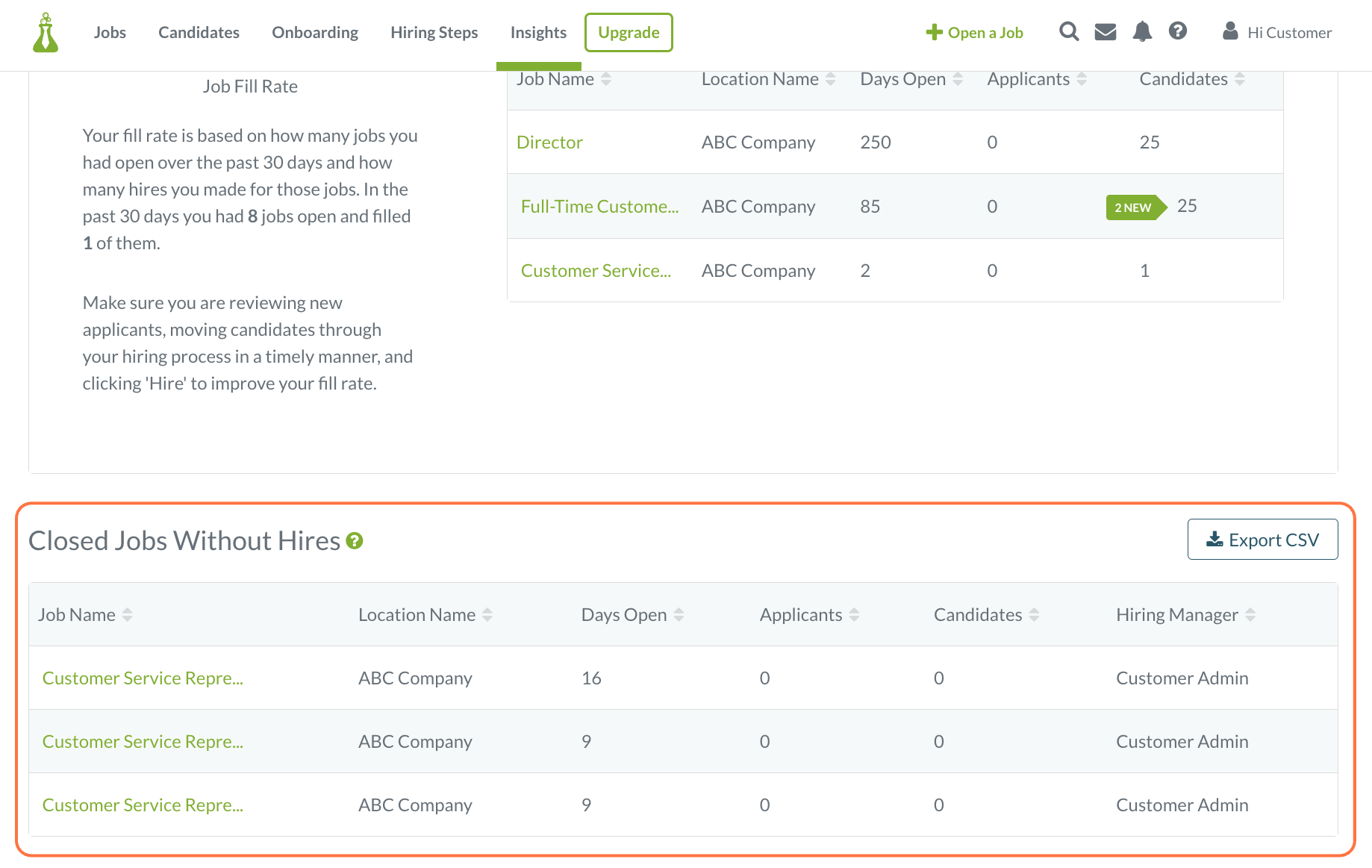 Reviewing Hiring Velocity
Hiring Velocity measures how efficiently you are moving candidates through your process. The greater your velocity the more time you save. The metrics on this page will show where you are doing well and where there is opportunity to improve.
Hiring Velocity can be viewed by location, hiring manager, or job. You are also able to set a custom time frame.
Applicants Reviewed shows the percentage of new applicants that have been viewed or had action taken on.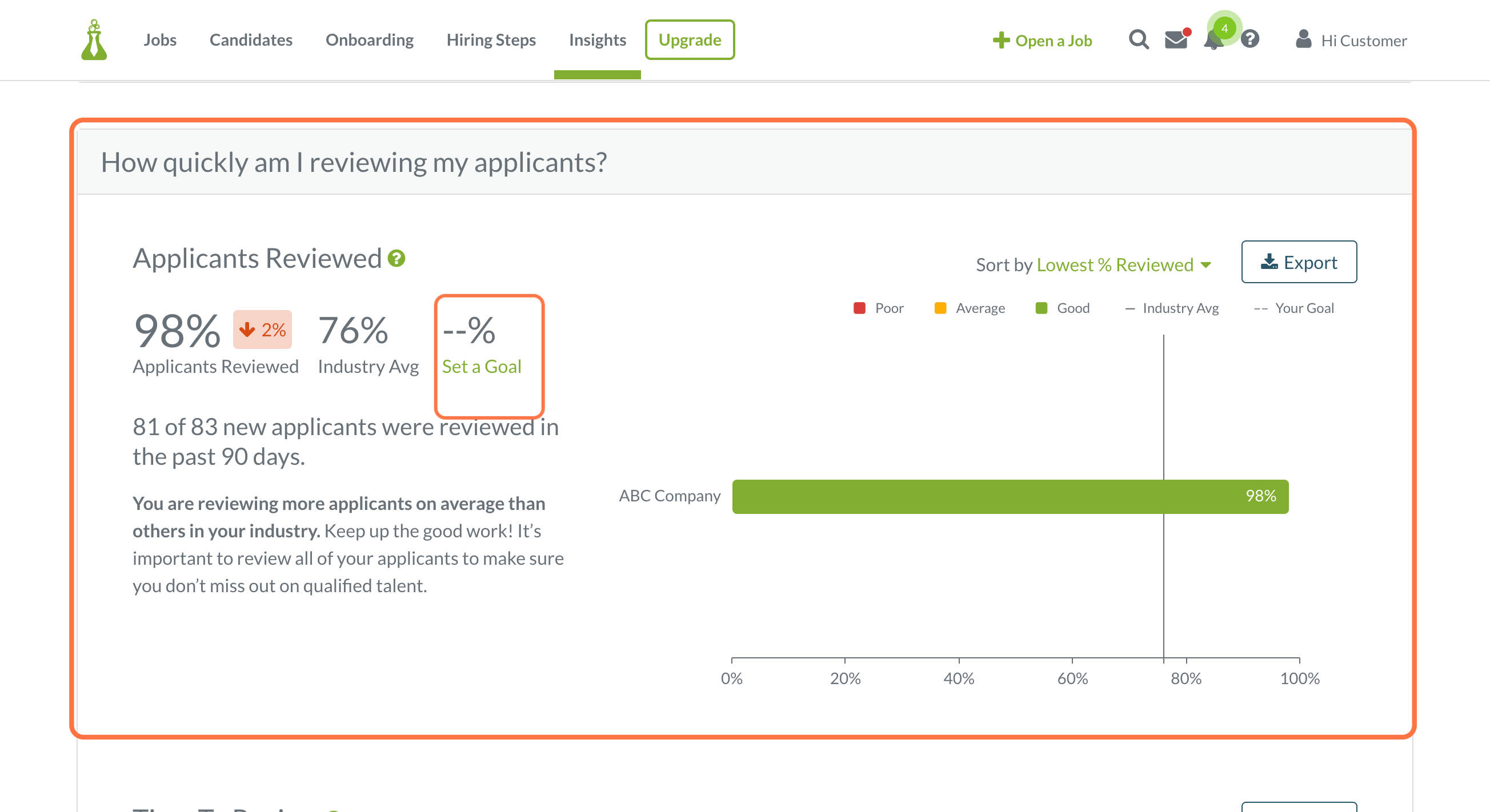 Time to Review shows the average length of time that passes before new applicants are viewed or have action taken on them.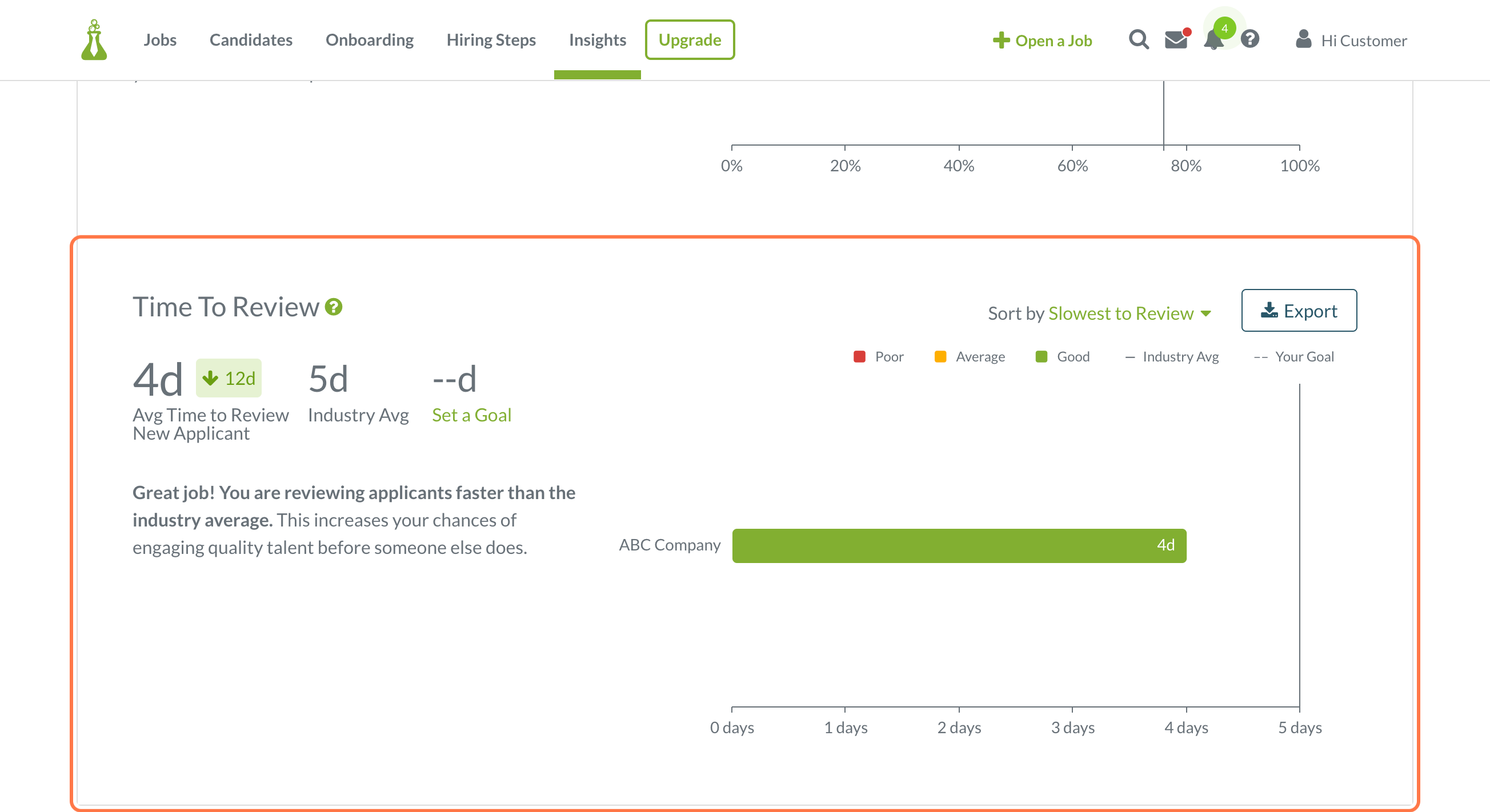 Time To Hire measures the time it takes to complete the hiring process from application to marking a candidate as Hired.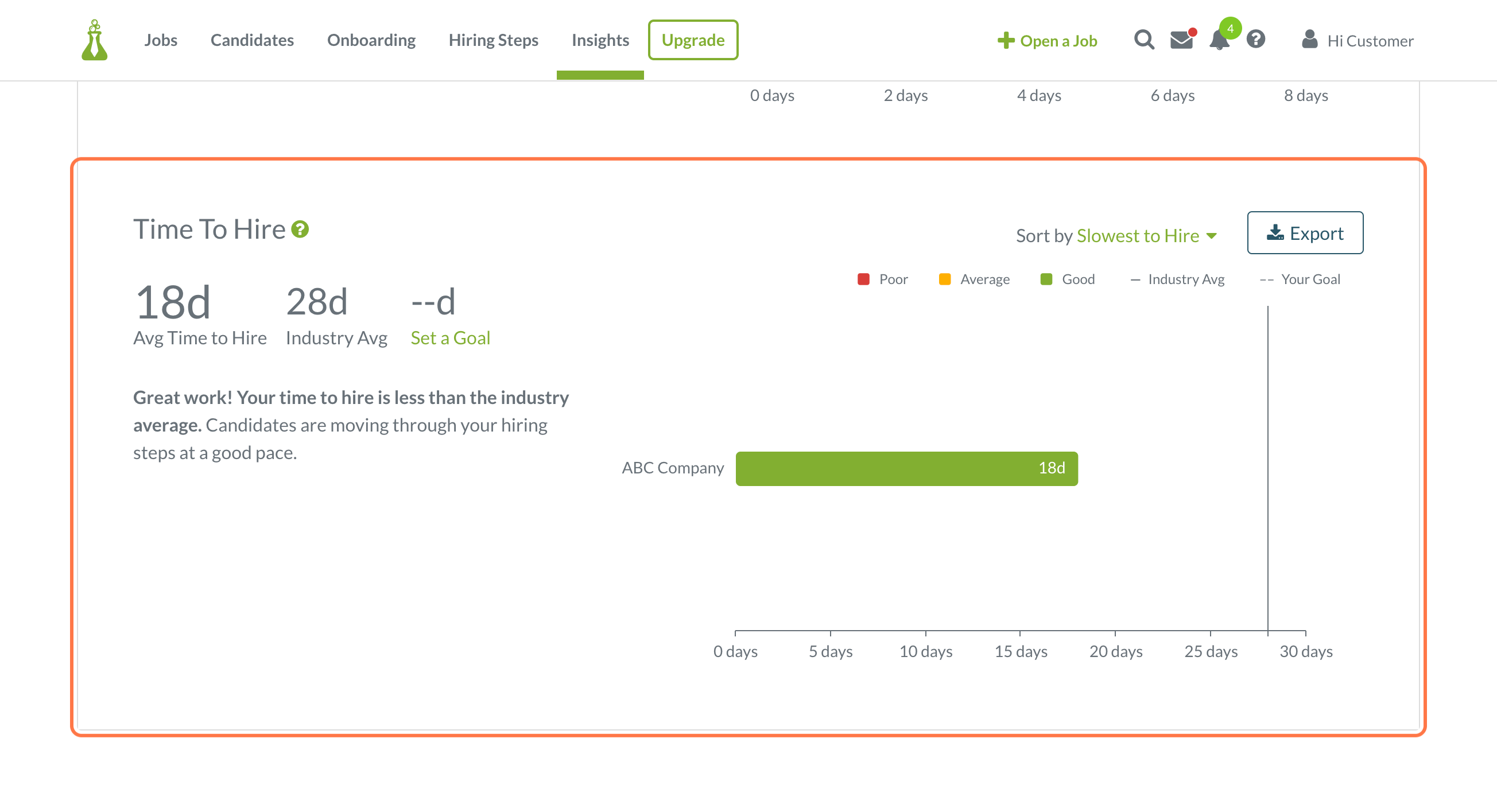 Goal Setting
Hireology Insights provides a valuable tool that you can use to set goals for each metric measured in the Hiring Velocity Insight report. Goal setting is beneficial to hold your team accountable to business metrics.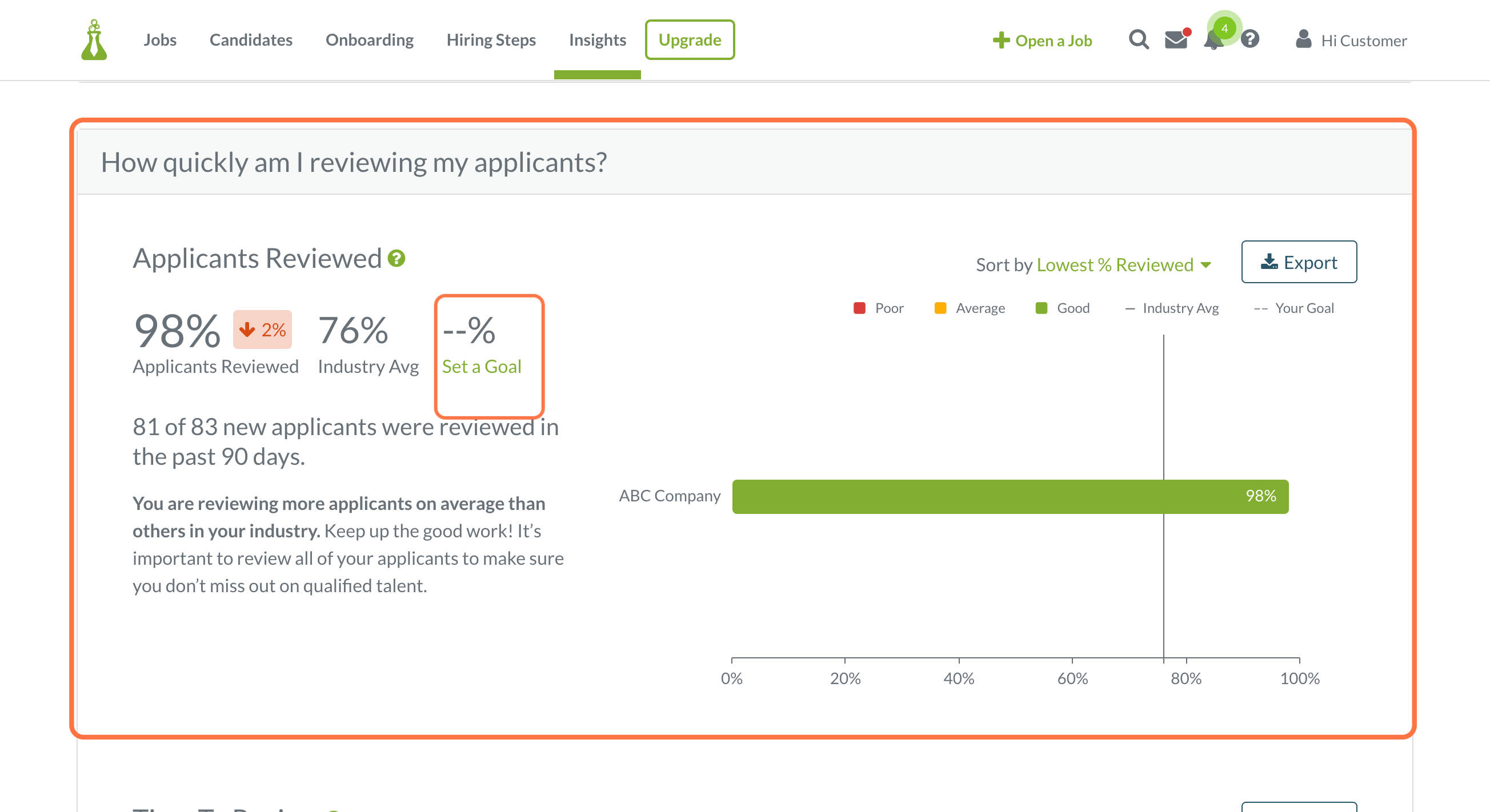 Reviewing Process Adherence
Process Health measures how closely your team is following your hiring process. A consistent process helps you make a quality hire in a shorter amount of time.
The overview shows what percentage of hiring steps are completed within the time frame set, what percentage of hires had all hiring steps completed, and candidates that are approaching Hire status but have steps skipped.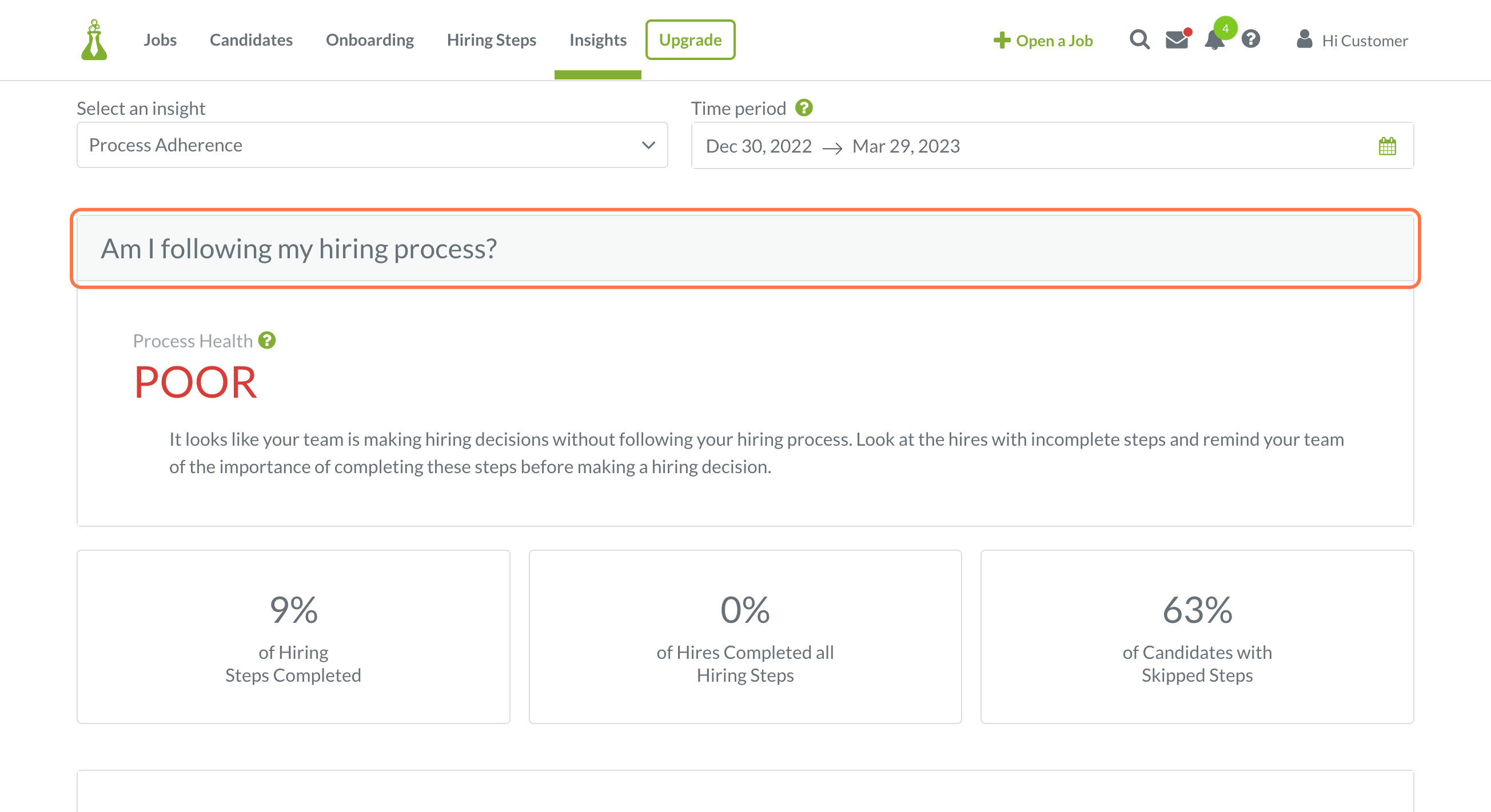 Hires With Incomplete Steps shows those marked as hired without each hiring step for that role completed.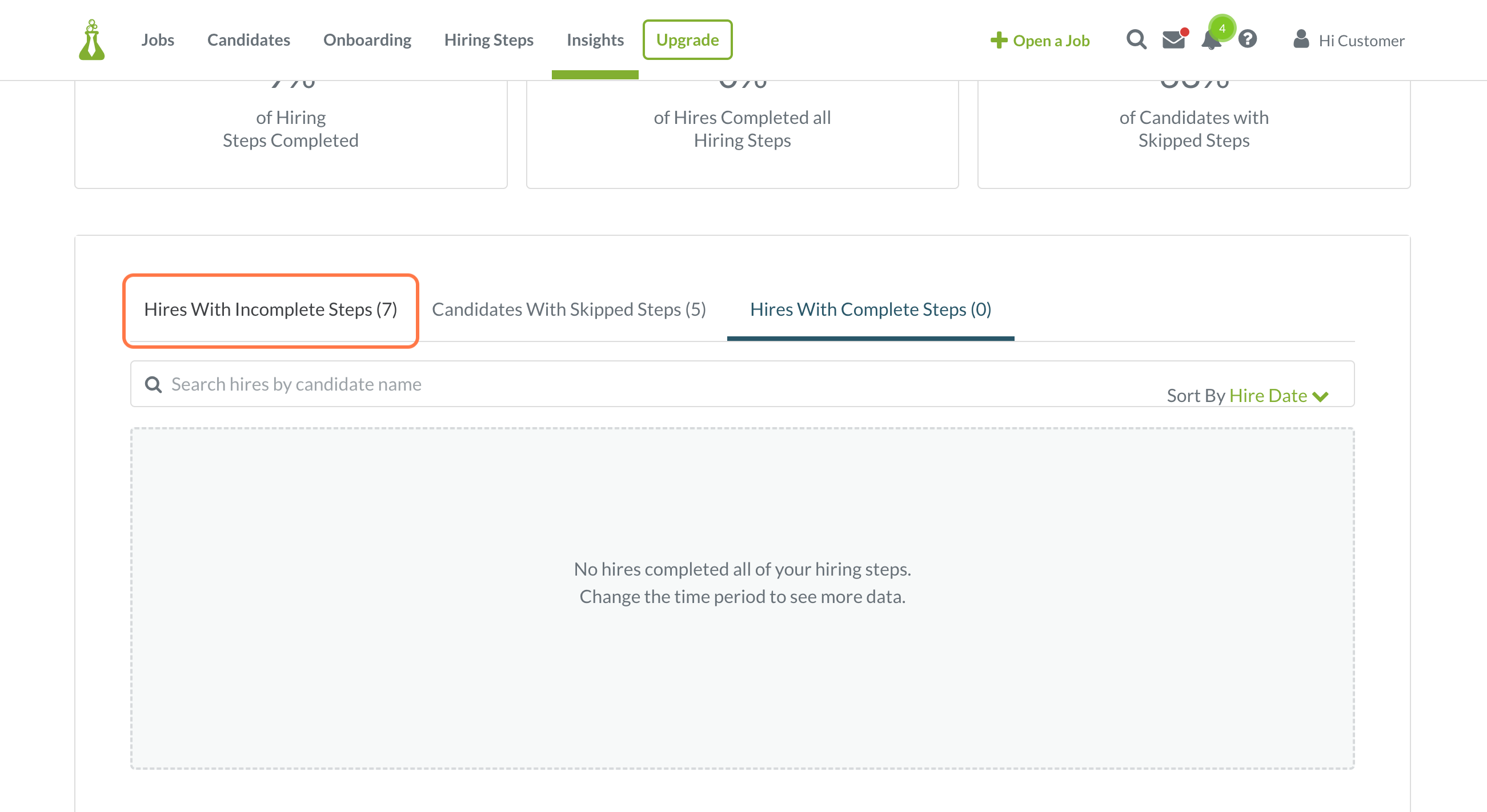 Reviewing Applicant Sourcing
Applicant Sourcing lets you see a clear picture of where quality applicants are coming from and get a sense of your ROI.
In the first section, you can see Which source gives me the most quality applicants? Quality is based on applicants who have scored 70% or higher on the prescreen survey or who have been advanced to Candidate status. The results shown here will reflect the Time period you selected.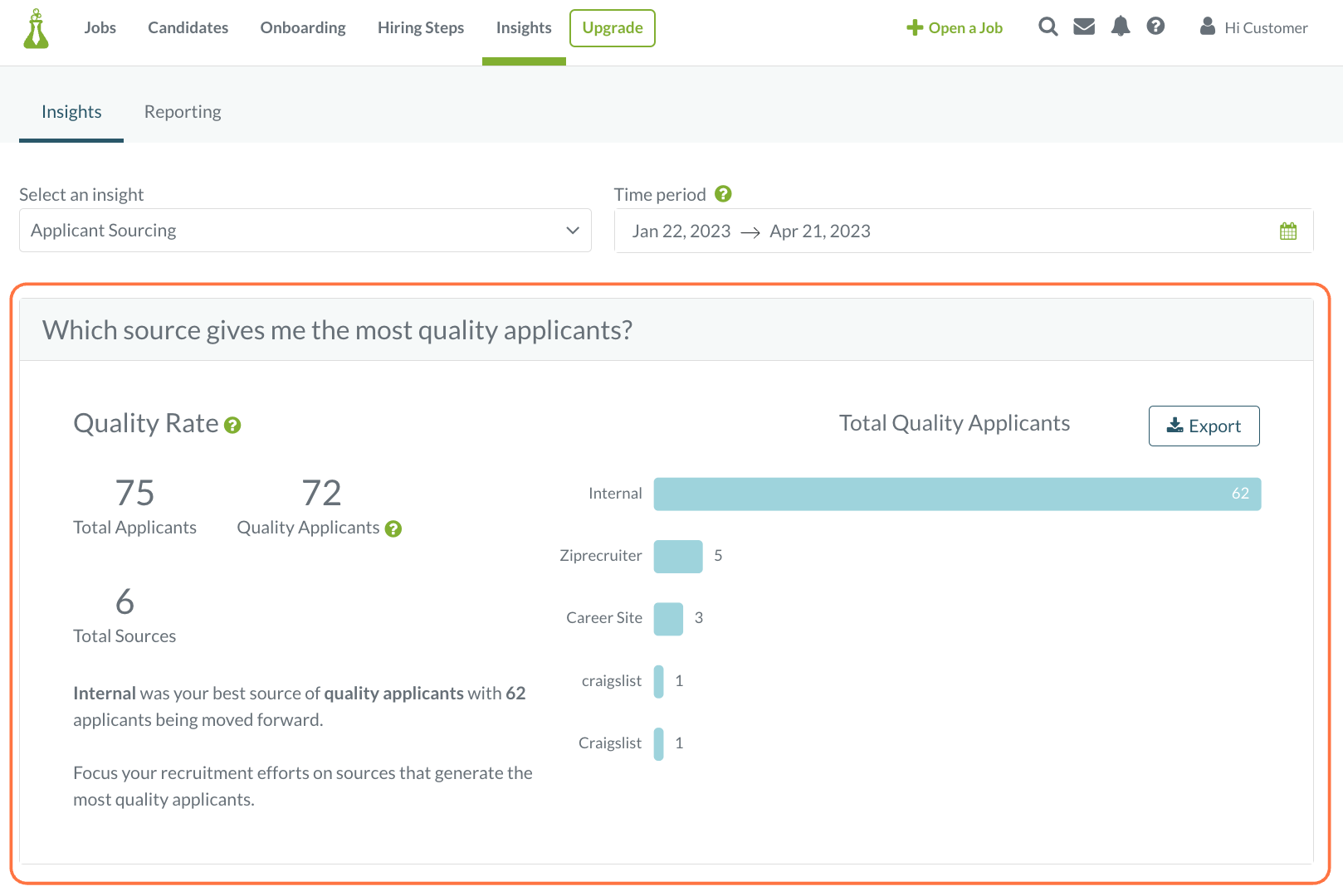 Career Site ROI shows you how effective your career site is at converting applicants to hires. To update your site, email us at support@hireology.com and our team of experts will be happy to help.


Conversion by Source shows you which source is the most effective at converting applicants to hires. Focus your recruitment marketing efforts on the sources that lead to the most hires.


If you've sponsored jobs, you can view the What sponsored job board gives me the most quality applicants? section for a breakdown of where those applicants are coming from!
Reporting
Reporting is helpful to view applicants by status and time frame, not by specific job, and to ensure efficient background check management.
Click 'Reporting' from the Insights navigation.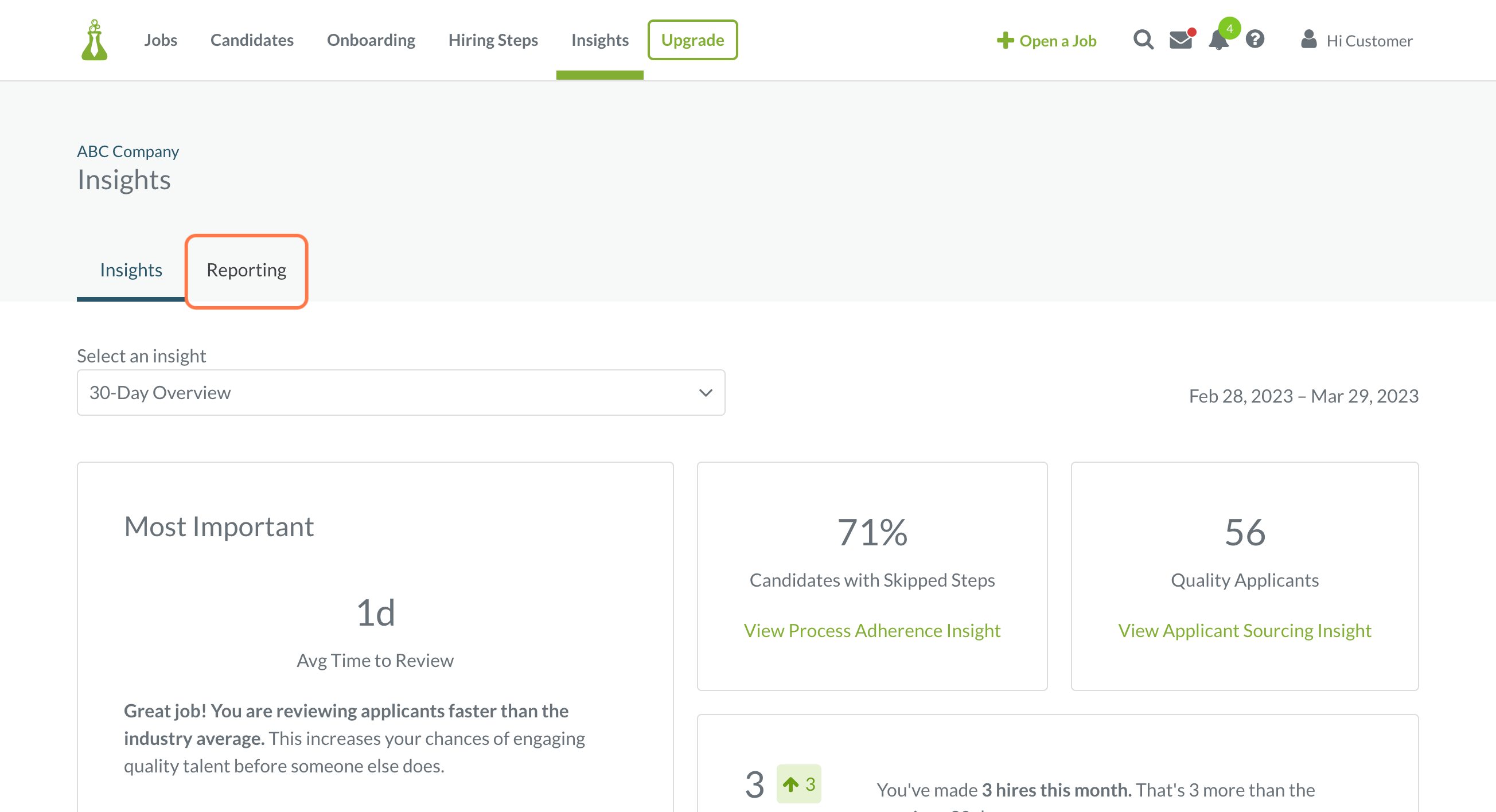 Choose a report from the drop-down (Candidates, Pending Background Checks, Canceled Background Checks, Completed Background Checks), a time frame, or type a specific candidate's name to view reporting on that person.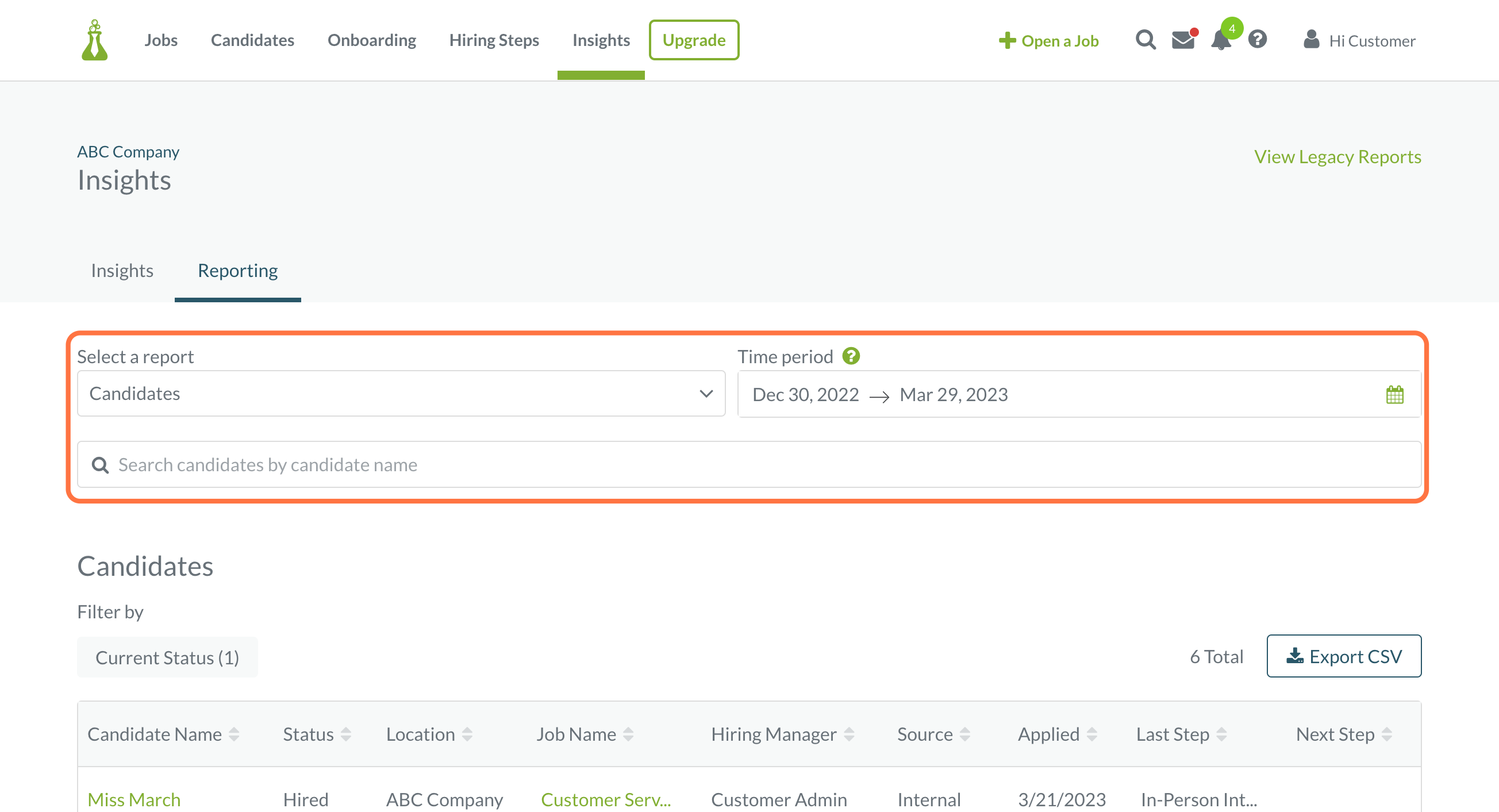 When viewing the Candidates report you can also apply a filter to sort candidates by status (Applicant, Candidates, Hires, Inactive).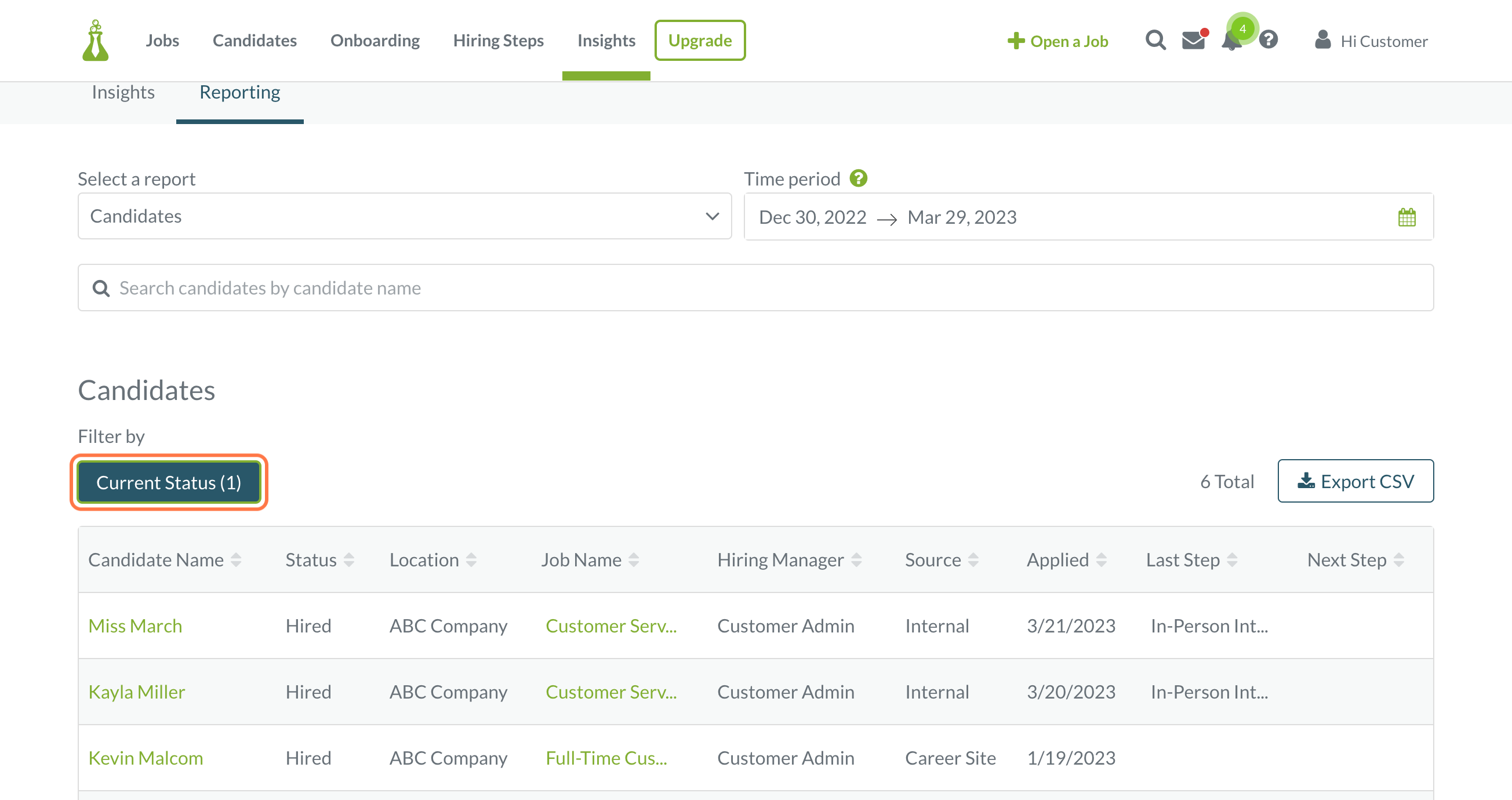 Related Topics