How do I change the color of the font on my Career Site?
To begin customizing your Career Site, start by logging in your Hireology account, click on the Settings icon and 'Settings'. 




Next, click on the 'Career Site' tab.




To start changing the colors of your job titles and links, start by clicking on the field under either the 'Heading Color' or 'Link Color' heading. Change the color of the font as it appears on your Career Site under 'Career Site Widget Settings' heading and adjust until you've found your favorite hue. 
                         


A color selector will appear, adjust according to your preferences. You will move the cursor around until you've found your favorite hue. After you've decided, click the small color wheel in the lower, right hand corner of the pop up to save your selection. (Note: You can see a preview prior to saving any changes.) Remember to click 'Update' to save your changes!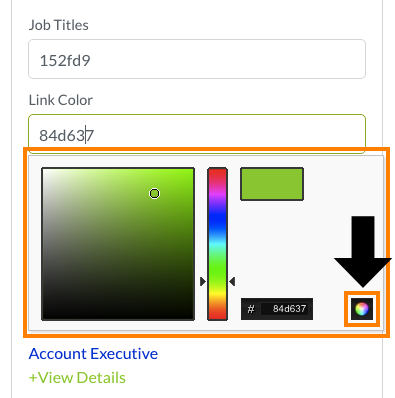 Last Updated: 8/22/2017