Can I build my own interview from scratch?
As a default, we'll set you up with Hireology-created interview guides for the phone (also known as the Impressions) interview as well as an in-person interview (also known as the Elements) with specific questions, based on the Job Family you select for the individual job profile.

If you have another interview that you would like to conduct or would like to create from scratch, you can easily do this while also having access to all default questions Hireology offers, if you so choose.

To start, click on the 'Hiring Steps' tab from the navigation bar at the top of your account.

On the Hiring Steps page, click on the 'Interviews' tab.

To the right of the page, you will see a 'Create New' button on your Interviews tab. Click this button to begin the interview creation.

On the interview creation page, you will be able to search our bank of questions or add your own using the tools to the lefthand side of the page.

To add your own question, simply begin typing n the 'Add a custom question field' then click the 'Add' button. If you'd like to make this question available for future use on other interviews, click the 'Save to question bank' check box.

To search our database of questions, use keywords in the 'Search' field or check the boxes next to the competencies you would like to measure in your interview to produce sample questions. If you see something you like, click the green dots to the right of the question to drag and drop into it 'Interview Questions' portion of the page.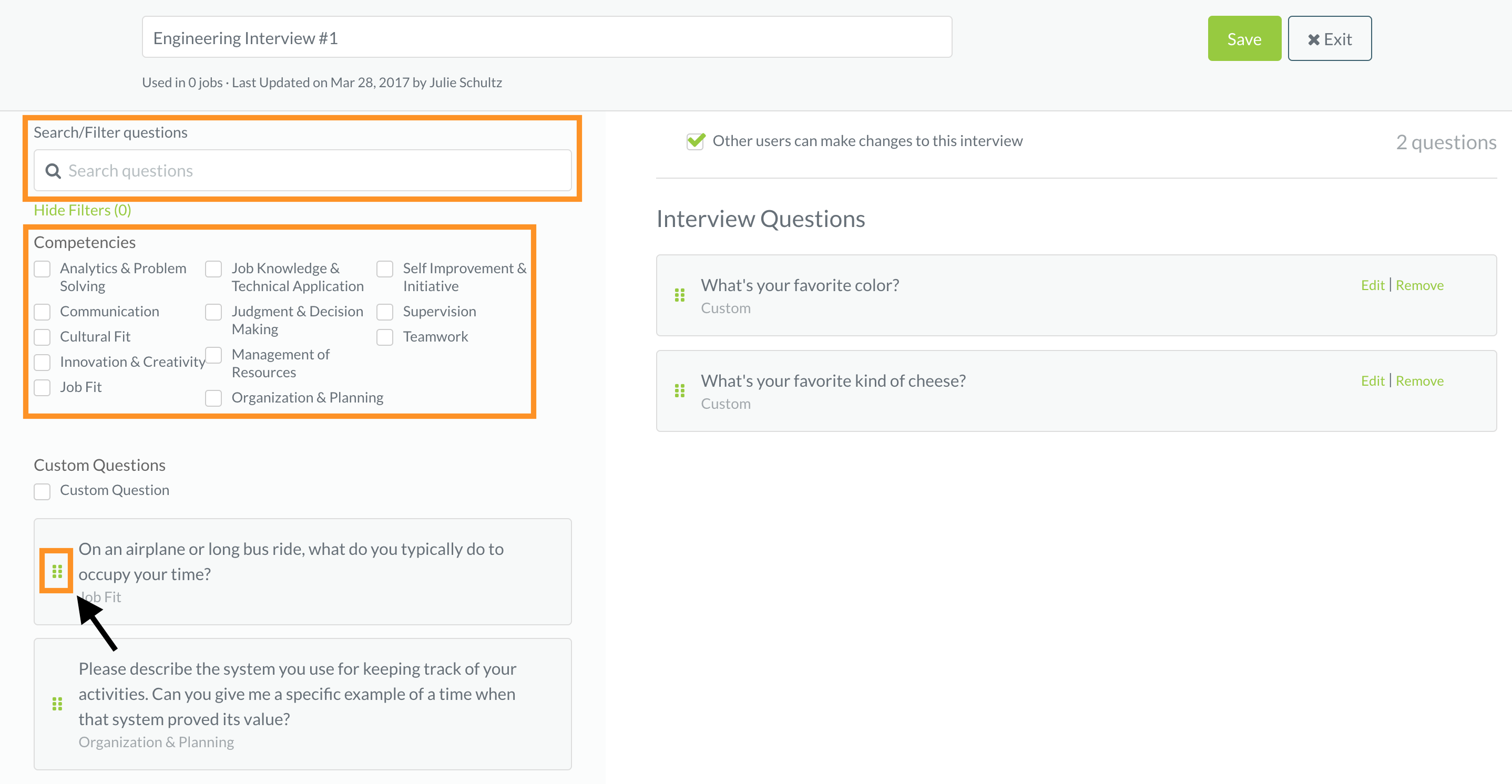 As you are creating your interview, you will see a count for the number of questions you've added into your interview towards the upper, righthand side of the page.




Don't forget to name your interview! This field is at the very top of the page. You'll want to name this something that is going to be descriptive enough for anyone creating their own hiring process to easily know what it is without having to click through to review prior to adding it as a step.

Once you have your interview created to your standards, click the 'Save' button at the top of the page.

Your interview will be saved. If you don't need to do anything else at this point, click the 'Exit' button to move on. You can click the 'Save' button at any point throughout the process to keep any changes you make.





Last Updated: 4/25/2019