How do I open a new job profile?
Need to create a new job profile for a recently opened position?  Start by clicking the 'Open a Job' tab on the navigation bar from any page in your account.




There are several ways to begin creating your new profile.  You can either clone an existing profile (steps to do this can be found here) or you can create a job description from scratch.  This article will focus on the steps needed to create a new job profile from scratch.

To start, click on the drop down menu under the 'Create a job' heading to select your job family.





Select the job family that most closely aligns with the job you are looking to recruit for then click the arrow to continue.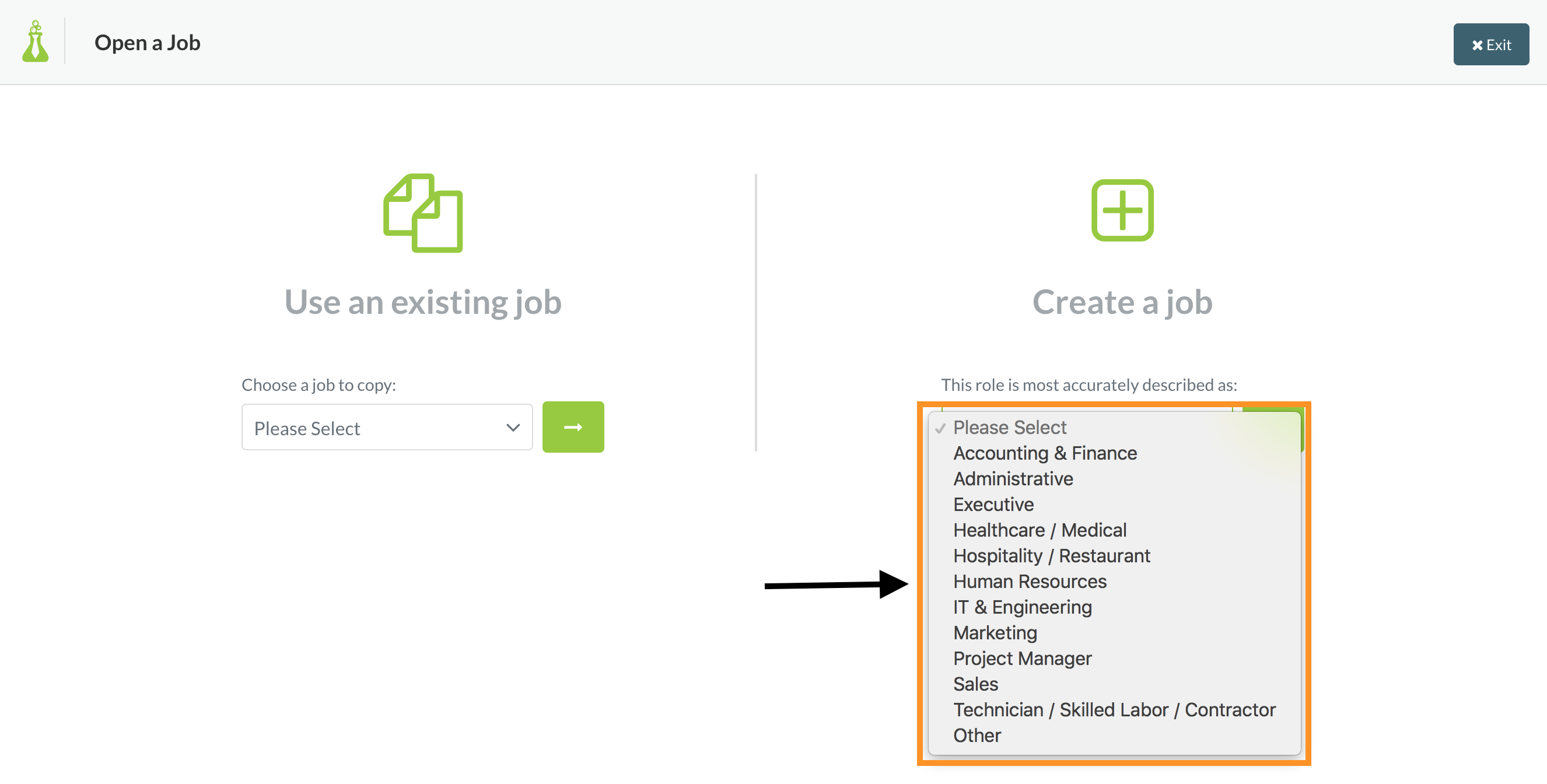 After you have selected the Job Family, you will continue on to the job set up page. On this page, you will give your new job a title, set up the city you would like to advertise in, enter your job description and finally, select a Hiring Manager for the position.


The next step in this process is to write the job description.  There are two ways to do this, you can either copy and paste a job description you have on file or use our wizard to help build out the job requirements and qualifications.
I  have a job description!
- Make sure the option 'Copy & Paste my Job Description' is selected.  Then simply copy and paste your description into the text field.  We also give you formatting options to customize the look and feel of the description.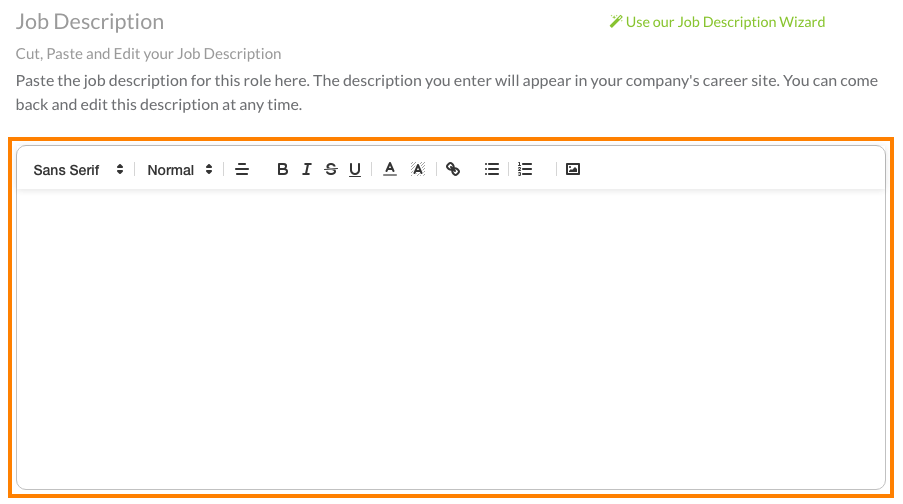 I need a little assistance with getting a job description started - Select the 'Use our Job Description Wizard'.  Use this template to create your job description.  You can drag and drop Responsibilities and Qualifications if you need to re-order them as you're creating your description as well as easily delete them if you entered in error.





The last thing to do on this page is to select a Hiring Manager and choose your sharing options.

Hiring Manager: This is the person that is responsible for the job itself. This is most likely going to be the manager of the person you end up hiring. The hiring manager will also receive all notifications for this job whenever a candidate applies, completes a SmartRank Survey, an interview is scored, etc.

Sharing Options: These options include showing your job on your career site, allowing other people clone (or copy) the job you've just created, making the posting "blind" and if you have a corporate hierarchy set up with Hireology, you will also be given the option to allow your location (or children) accounts to use this job template in their own accounts. Here's what each of these things mean:



Show this job on my career site: This will take your job live on everything from your career site widget to the organic feeds for Indeed, Glassdoor, and Linkedin. If this box is unchecked, candidates will not be able to find your job anywhere online. This may come in handy if you're recruiting internally or passively for a job and you may not want it advertised.

Other users in my account can clone this job: Having this checked off means that you can clone (or copy) those job again in the future. Any user with the ability to open up jobs in your Hireology account will see this as an option in the 'Use an existing profile' dropdown when opening up a new job.

Mark as blind posting: Check this box if you would like the job to go live to the job boards but want your company name hidden in addition to hiding it from your widget. If you're replacing someone internally, for example, you can use this option to post it out the world but hide it from your company. Keep in mind when doing this that you are likely to see less candidate flow because most candidates will bypass an opportunity to apply for a company they can't first research. You'll also want to be sure that your company name isn't included anywhere in your job description.

Allow my locations and divisions to clone this job: Just like allowing other users in your account to reuse this job for future recruiting needs, you can give your location accounts (if you have a corporate hierarchy setup) the ability to use this job profile as a template in their own account. If you do not want them to have access to this job then make sure this box is unchecked.

Once you have everything set up, click the 'Next' button.






Next, you'll need to setup your Hiring Process. The Hiring Process is the path you or your hiring manager(s) will take to screen, interview, and verify your candidates. This can be the same or different for every job you open within your Hireology account. We'll give you a default process to start with but if you want to make edits or create your own, this is the time to do it. 

To move a particular step within your process, click the green dots to the left of the step.

To remove a step, click the red 'x' to the left of the step.

To edit a step, click the blue pencil icon.

To add another step in your process, click the 'Add hiring step' button towards the bottom of the page.

If you need additional help building out or adjusting your Hiring Process, visit our FAQ article herhehehehehehe.

Once you're satisfied with your Process, click the green 'Next' button at the bottom of the page to proceed.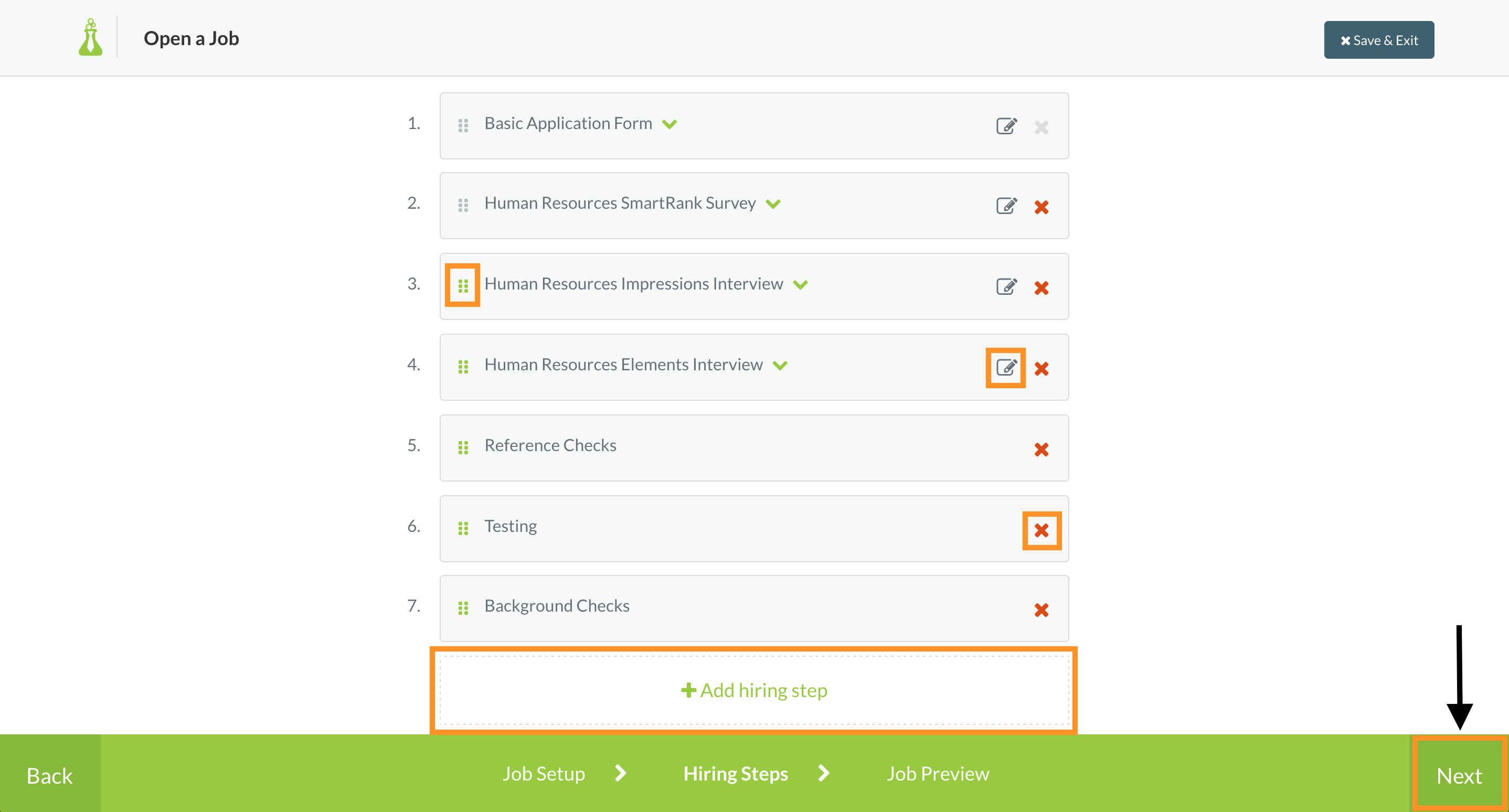 Before you take your job live, you will have the opportunity to preview the description as well as the settings.  From this page, you can also go back and make edits before moving on and opening up your job. If you're good to go, click the 'Finish' button at the bottom of the page.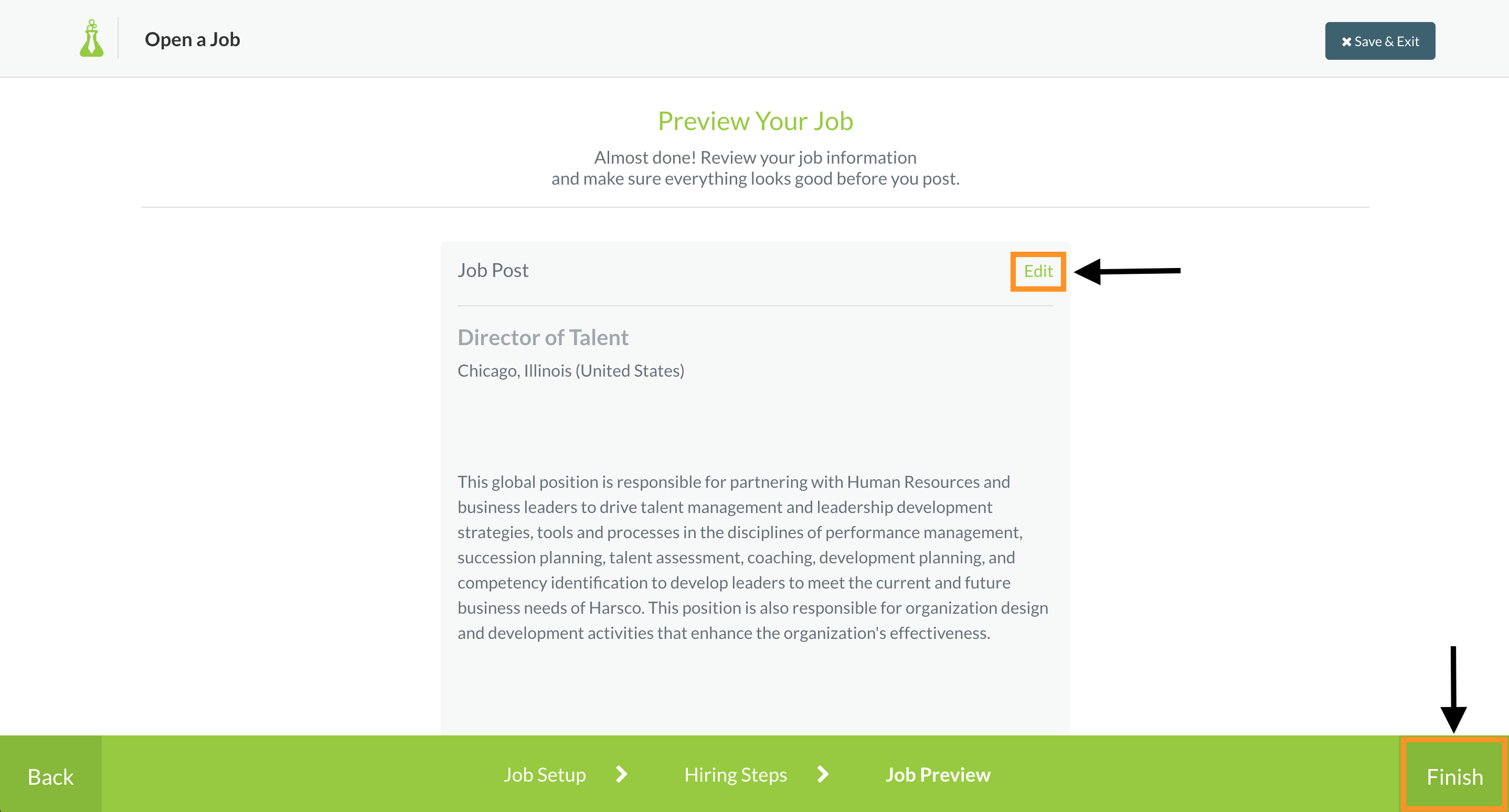 Once you've decided your job description is up to your standards, click the 'Finish' button to move on.  You will receive a pop up to either confirm opening your job or click the 'Save for Later' button to put it in pending.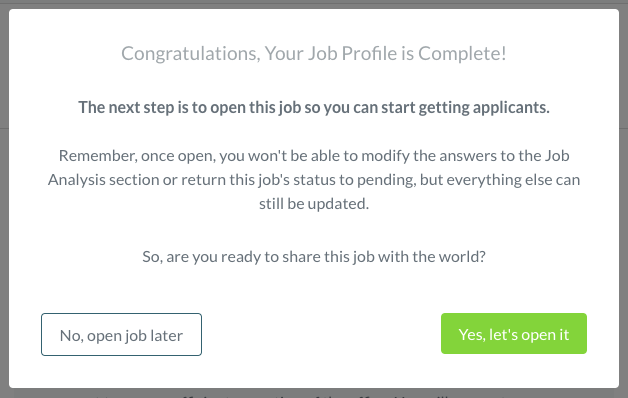 Saving it for later?  No problem.  The job is saved for you with your pending jobs.  You can activate the job at any time.  To activate the job profile, click on the job title from the Jobs & Candidates page under the Pending tab. 





Next, click on the 'Pending' button and select 'Open Job'.




Upon opening your job, we'll give you the opportunity to post to the sponsored or pay to post job boards right away. This is not required. Your job will get picked up automatically by the organic feeds of Glassdoor, Indeed, Linkedin, Google, and Jooble just by opening up the job. If you do not want to post to a job board, click the 'Exit' button to leave the Job Board screen. Your job will remain open and you will see candidates start to flow in roughly 24 hours after you create your new job.

You can always come back to the pay to post menu later, to do so, click the 'Promote' button in your Selection Manager to be routed to our sponsored post options. Further instructions can be found here.


Last Updated:  4/17/2018