How do I resend an invited user the email to get started?
When you first invite a user to join your Hireology account, they will receive an email that looks like it's coming from you with the information necessary to get started.

Contained in that email are instructions and a link to confirm their username and password. Without this email and without clicking that link, your new user will not be able to log in. If they delete this email by accident or are unable to locate it, you, as the admin, can easily resend them the invitation.

To start, log into your your Hireology account and click on the User menu in the top, right hand corner of the page then select 'Users'.




Next, scroll through your users until you find the one that needs their invite resent. Next to their name, you will see a 'Resend Invitation' button. Click this to start the resend process.




A pop up will appear where you will re-enter the user's email address. This can be the same email address or a different one, if they continue to have trouble with retrieving the invite in their inbox.

Once the email address has been entered into the email field, click the 'Send' button.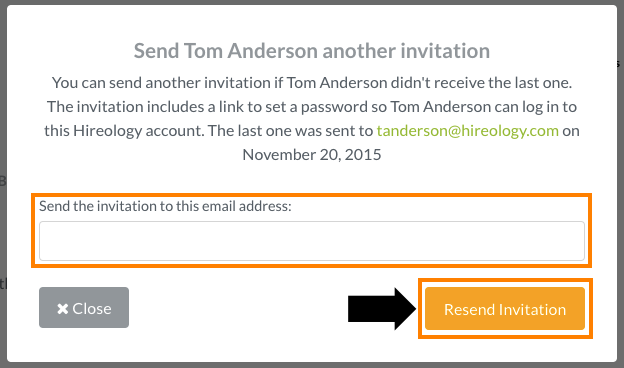 Your new user will now have an invite in their inbox to complete the confirmation process.




Last Updated: 8/17/2017